Create a Hinged Card
To Create a Hinged card is easy and will help you to make larger cards for you to decorate.
You could just simply fold your card in half and use it with the fold at the top but that will restrict you to the size of the card you are using.
And maybe you want to design cards that are larger with no restriction to the size at all ...  that way you can add more embellishments to the front for a spectacular look.
This is one way to help you to  get that look and the video will take you through the steps you need to take to make them for yourself.


 Let this short video entertain you ... grab a cuppa and settle down to watch.
You too can make cards that stand by themselves and can be as pretty as you can make them.
The short video  Making Cards My Style  explains the reasoning behind this style of card.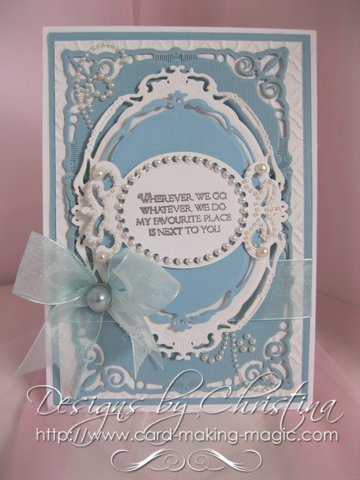 This is the card from the front and I have lined the inside of mine. 
There are two reason for this ... one is it makes the card a little stronger shiuld you not have a super weight card stock.
The other is it hides all the workings of the added hinge and gives a far more professional finish to the design.
Important if you are wanting to sell your cards and want to give people the best quality you can.
Yes I know it takes more card but the finish will be worth it when people come back to you for more of the wonderful cards that you create.
I have used many different Spellbinders dies on this card o give me the layered look.
In the centre of the card I have stamped and embossed the verse and then surrounded it with matching Diamante "Bling" from Want2Scrap
So I hope you will like this easy idea and try it when you next make some cards.
And for something a little more intricate then please also view 
Filigree Hinged Cards
Return from  Create a Hinged Card to Homepage