Faux Leather Tutorial
Another fabulous technique to add to your repertoire ...The Faux Leather Tutorial shows you how.

This is not a difficult look to create, but it is a fun one to add to your cards, and you can create this in any of the colours you have in your own ink pad collection.

It is fun to use this technique for cards that you make as books and can then it can be dressed up any way you wish.

It can also be used on  altered items such as jewellery boxes that may need a little sprucing up.
Make the cardboard look like leather in easy steps and turn them into something special 

Then decorate with flowers and gemstones for a sparkly effect.

The image for the card created in this video is "Skater Chick" from the fabulous pen of KennyK Stamps

You will not be disappointed with the characters that you will find there... and there are many for you to choose from for all subjects and occasions.
You can of course use any character or image that you prefer and this technique is really good on cards you make for the men in your life.

The video is not a long one but if you would rather read then here are the Written Instructions.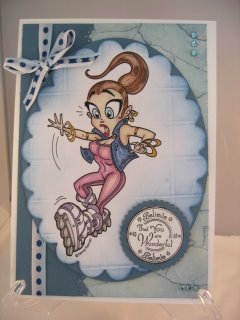 There are also some easy to follow instructions for you to make your very own Blending tools.
I use mine on a daily basis and I need lots for the inks that I have

This is a really useful little tool and it can be quite expensive if you have lots to buy.... especially if you have lots of different ink pads that you use like me.

But this is a cheap and cheerful way to get as many as you need from a little bit of wood,  a few screws and some door knobs. It kept my "Film Crew" busy for a while chopping the wood and me adding on the door knobs.

I have a different one for each colour of ink that I have, and that way my ink pads stay true to the colour they are supposed to be and will not get muddied by any of the other inks.

The Faux Leather Tutorial is one of many new ideas that you may like to try and there are lots more in the Tutorials section, and many with a short video to take you by the hand and show you the idea.

Return from Faux Leather Tutorial to Homepage