Spellbinder Bargains
Spellbinder Bargains will point you in the direction of some good deals.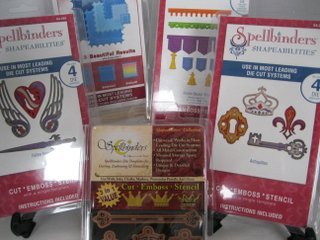 Do you like to use Spellbinders ??
Then you will know how addictive these dies can be.
There are so many to collect and it would be almost impossible to make a bad card with these dies.
They will really take your card making to the next level and even the new beginner would fall in love immediatly with any of the sets.
---
---
Just the smallest addition ... like the Banners at the top of this card ... can make your cards look really special and that has to be a consideration for any cardmaker.
But if you have browsed the shelves in you local craft shop then you will know that cost of them makes them unavailable to many people.
And so to find a really good deal has got to be good news.
The video is not long but it will share with you a website that I was introduced to that sells "Close out" Spellbinders.
So what is a Close out?
Well it is dies that are no longer being made and so this company buys these brand new dies to sell to us.
But what that means to US is that they are available to buy at a knock down price ... while they are there...so grab them while you can ... because once they are gone they are GONE!!
Save On Hobbies is the place to visit and see which bargain you can pick up.
All the Spellbinders in the video are from this website and all the cards featured are created using them.
And it is worth visiting every week because new "Close outs" are being added all the time.
And you will be really annoyed with yourself if you pay top price for something that is being discontinued ... that you could have got a lot cheaper as a Spellbinder Bargain...
Return from Spellbinder Bargains to Homepage

---
---