Springfold Card Tutorial.
A Springfold Card Tutorial ...easy to follow for stunning results.
This is a card that causes a sharp intake of breath whenever it is given to someone and is truly a "Special Occasion" card.
It looks very intricate but it isn't at all difficult to do, and the more you practise it the better you will get.
I know when I first tried to make this it seemed so complicated and I couldn't follow the instructions at all.
They just didn't make sense to me and it was so frustrating.
So I have tried to keep these as easy to master as I can and then this will be another magical fold in your repertoire.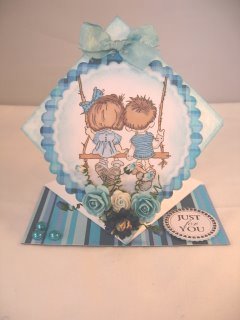 Remember that to help your self with any new card fold it is always advisable to make a Template.

This short video will show you the steps you need to take to get the stunning results that you want.

Seeing something being done helps me to learn, and maybe you are the same, but if you like to read then here are the

Written Instructions.

I hope you will give this card fold a try and I am sure you will be delighted with your results.

There are many folds on the website and with a little practise you will be creating cards that you are really proud of in no time at all.

Dress them up any way you want and put to good use all the things that you have been hoarding in your "Stash".

The flowers used on both of these in the Springfold Card Tutorial are from Wild Orchid Crafts

Return from Springfold Card Tutorial to Homepage

Search
Custom Search