Spellbinders Oval Frames


Creating more beautiful cards this time using Spellbinders Oval Frames
There are so many ways to use each and every one of these dies that it would take me forever to go through them all.
Every card needs a focal point and this is one way to create a frame to make it stand out even more.
For  more ideas on how to use your Spellbinders or even help with starting your own collection please look at the videos in the Spellbinder Series in the Video Tutorials section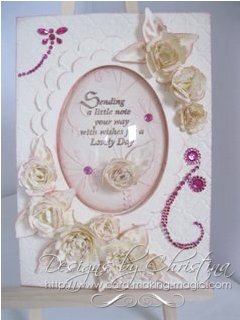 So Easter has gone ... and I for one always enjoy the chocolate eggs that come my way.
But being a frugal crafter I can't bear to throw anything away so I looked differently at the acetate bubble that the egg was encased in.
This was too good an opportunity to waste and so with casings I put them to good use and made two cards.
Once they were added to the card they needed something extra to bring them out even more and so this is were the Spellbinders Oval Frames have been used. 
---
---
The dies used for this card are the Ovals and the Scalloped Ovals and all you need to do is find one of them that will fit around the acetate egg cover that you have.
As each egg will be different then you will need to use whatever you have to hand.
But the Scalloped Ovals need to be big enough to create the frame. 

The tutorial will take you step by step through what you need to do to get the look for yourself ... and Easter comes round every year .. so even if you threw the acetate casing away last year  I bet you won't this year.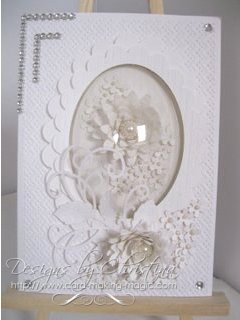 I hope you will make this card for yourself and I think it is rather special ..... and a really good excuse to go out and buy more chocolate eggs .... not that I need an excuse !!
You can dress the card up with anything that you have in your "Stash" to make it look even more special.
Return from Spellbinders Oval Frames to Homepage