Making a Card ...
Inside and Out.
Making a Card can be so easy ... you just need to plan it out before you start

Making a card should be an enjoyable process but many people get stressed because they don't know where to start.

Or perhaps your Mojo has gone walkabouts and all you can do is stare at that blank card and paper.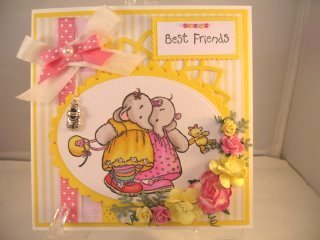 This short video will help you to restart the process and give you some ideas on how to make a card from start to finish...

... and have the inside of the card as beautiful as the out.

Just use whatever you have available to you in your "stash" and colour any images in with the medium you prefer to use.

I have used the new "Spectrum Noir" pens from Crafters Companion.
---
---
It doesn't matter if you don't have the same images I use, and one pink, blue or lilac paper can be used as well as any other.

All you need is the confidence to start. So just play and enjoy your self, and remember it is only a bit of card or paper and if you make a mess it doesn't matter.

Just keep playing and the more you do the better you will become, and in no time at all you will be making professional looking cards.

And another thing you can use to help yourself plan out that creation is a Cardmaking Sketch.

For an even more co-ordinated look then make a box to match.

All you need to do is make three mat and layered panels and add the third one to a box lid.

This link will take you to a short video to make a square box for this size of card

Use the same ribbon and any other embellishments on all the panels and the whole effect will be perfect for you to give to your recipient with love.

If you like to use Ribbon or Seam Binding then don't forget you can colour it to match your projects using your colouring pens or distress inks.

Altering ribbons to match you theme is easy to do.

But wear rubber gloves and then you won't stain your hands... like I did!!

And for a beautiful way to display your cards take a look at Creating Card Stands


Return from Making a Card to Homepage

Search
Custom Search