Twinkling H20s Tutorial


This Twinkling H20s Tutorial will show you how to get a real shimmery look to your creations.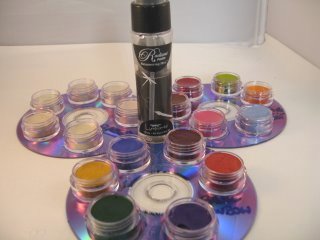 This product will give you some lovely effects on your cards and they are very pleasant and  easy to use, Ideal for the beginner. 
They are water based cakes of paint that have  Mica Powder in them for the sparkly look.
You can buy them individually or in sets and they usually have a spritzer bottle with them. When you get them the paint is really hard in the post and you will need to fill the spritzer bottle with clean water and spritz each of the paints
Leave them to soak for a little while and the paint will soften for you to use. Re spritz as you need too keep the paints soft enough for you to paint with
The range of colours is amazing  and the quantity of Mica Powder in them is second to none.
You can buy Mica paints cheaper but the quality is not there and the results  will be disappointing.
And this is an excellent Storage Idea  I used an old CD case and glued each pot in its group to an old CD ... then layered them up into the holder.
Keep them open and flat while the paint is wet and then once dry you can store as  many layers as your case will hold ... with the clear lid on safely until the next time you need to wake them up
For a good selection of colours have a look at
---
---
Remove the tops from the pots that you need to work with and leave the rest hard until you need the. That way you can be sure that you won't spill them and waste the precious paint in each little pot.

When they are ready to use then the idea in this Twinkling H20s Tutorial  maybe one that you will enjoy.
Experiment with these paints and you will be very pleased with the results that you get.
Use them to colour in your stamped images too especially to highlight some clothing.

Adding the paint to a plain white tile and spritzing regularly with the water will make your paint go even further and give you really good value for your hard earned cash.
I hope you will try this product and that the  Twinkling H20's Tutorial has given you some ideas.
Colouring In 

Water Colour Pencils

Colouring with Distress Inks

Copics

Spectrum Noir
Return from Twinkling H20s Tutorial  to Homepage