Create this Beautiful Spellbinder Special Card
A beautiful Spellbinder Special card that uses the very popular White on White color scheme that is so popular and on trend at present.
It can be the base for many cards and it will suit any occasion from weddings to christenings and everything in between
Both of these cards are one color and use dies from different collections. Some are dies that I have now had for a while but they still continue to give good service as long as they are looked after.
Beautiful cards are easy to make with  dies and new ones are being added to their collections every month.
This is one of the newer ones for 2015 and and it is Majestic Oval which is part of the Victorian Garden Collection from Spellbinders
Once the card is made you can dress it up as you wish.
I have added on some lovely white flowers to this design
The pearl flourish adds that touch of luxury to the side of the sentiment which has been stamped and embossed in silver
Wouldn't this make a lovely wedding card ?
This card features the same set of dies that I suggested in the
Starting Your Spellbinder Collection
and continued with in the rest of the videos in this series... and many more have been added.
Click the links below to visit a new page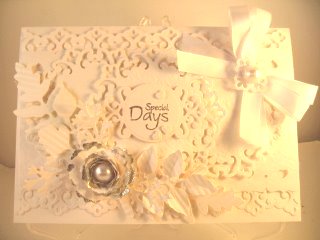 More from Your Spellbinders
Flip Card with Spellbinders
Aperture Card with Spellbinders
Gatefold Card with Spellbinders
Big Cards with Spellbinders
Spellbinders Door Card
Spellbinders Dress Form

Each of these tutorials will show you how to create a card you can be truly proud to send... and delight the recipient in the process.
The talcum powder that I have used in the video to degrease the card is just a cheap, ordinary powder that you can buy anywhere... but it not only removes the fingerprints from the card it also makes it smell nice too.

It stops any embossing powder sticking to other place on the card that may be moist from your hands or from inking the card 

And it is cheaper than the anti-static bags that are on sale!!

Once the embossing is cool you can always sweep over it with some soft tissue to remove the talc.

There will be no end to your creativity once you have some of these wonderful dies and the only limit will be your imagination.

But don't just stop at white on white ... think of other occasions that you are making the card for and add in the colours that will suit.

For instance ... a gorgeous deep red for a Ruby Wedding Anniversary... or Pearl card for another. Glorious Gold for that special celebration too would make a really spectacular card.

Milestones Birthdays too would warrant a really pretty Spellbinder Special card and of course these wonderful dies will always be there to help you with the design.
New dies are being added all the time and some of them are very intricate.   
Return from Spellbinder Special to Homepage