Cardmaking-Matting-and-Layering 
Tutorial
When I started Cardmaking-Matting-and-Layering was a term I had never heard of and I had no idea how to get the result for myself.
I really didn't have a clue what the term meant.
 So if you are feeling the same way then this short video will explain to you how to get the look for your self.
In another short video  Cardmaking-Choosing-Colours  I tried to help you overcome the fear of putting colours and patterns together.
And then hopefully you can discover the fun to be had from both techniques
This video will take things one step further on and show you how just by adding the layers to your papers, you can achieve a very professional  and pleasing look.

If the papers you have chosen have a busy feel to them, then by adding in plain layers the whole effect will be calmed down and the over all look of the finished card becomes much better to the eye
This card has lots of layers to it 
And if you use Specialised Card like glitter card or mirror board then the look will be even more luxurious once the design is finished.
The dotty background to this card is foiled.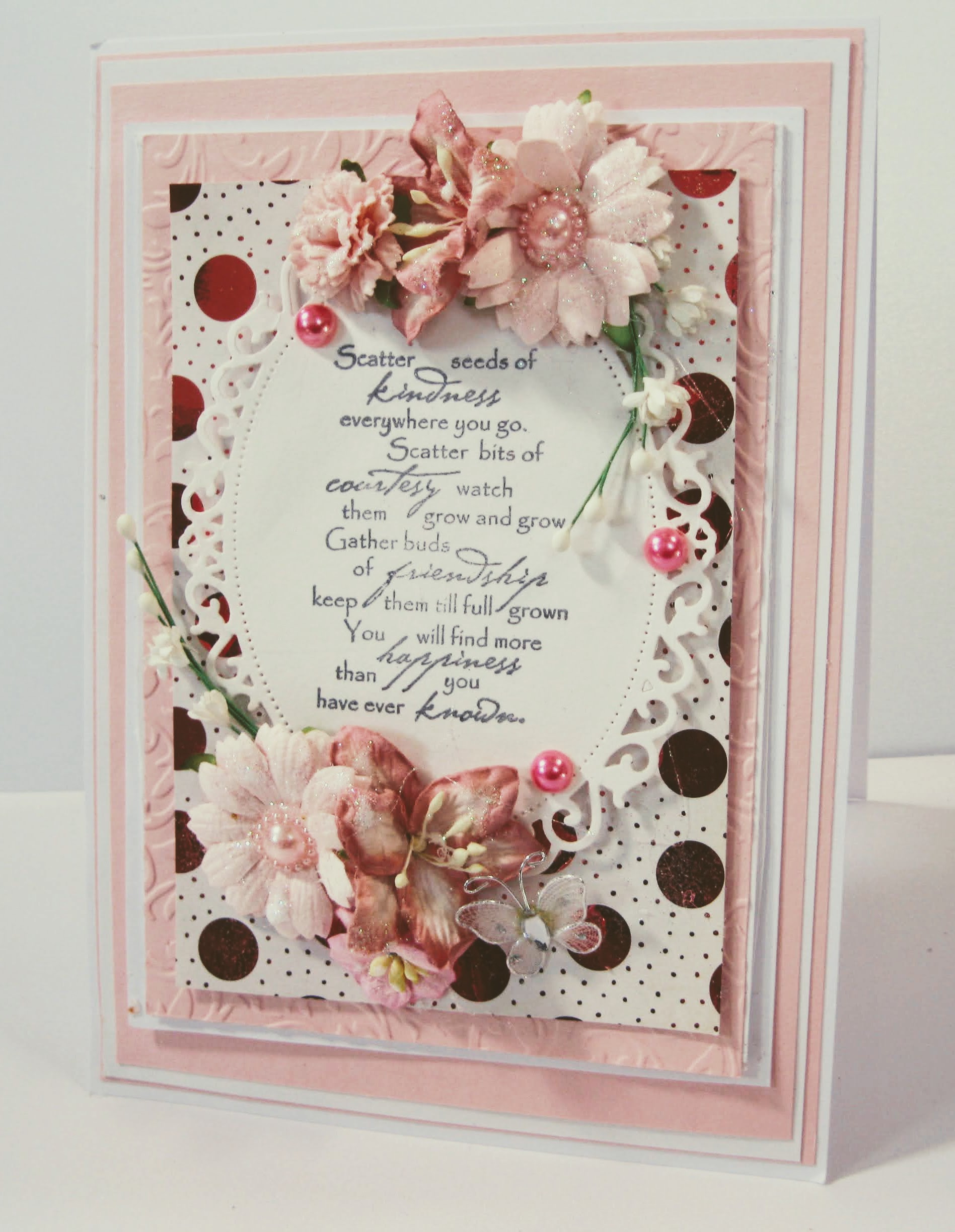 The video is very short but it does cover the basic steps that you may like to try when you first start out with this lovely hobby.

You will also find a written explanation, if you prefer to read about Matting and Layering

But that will you show the technique using Inking the edges to separate the layers rather than adding in the plain mat.
I think adding in the plain mat gives a much more pleasing look to the cardmaking-matting-and layering technique ... but the choice as always is yours.
In all areas of cardmaking-matting-and-layering your efforts will get better and better the more you do, and your confidence grows.
My aim is to help you get to that stage in this process a lot quicker than if you struggled on by yourself.
After all what nicer feeling is there than to have some one amazed at the card you have just given to them and see the look of appreciation on their face when you tell them that you have made that just for them.

Other Video Tutorials  that may help you with card are ...
Card Making Weights and Sizes
More About Card Sizes
Cardmaking Adhesives
Return from Cardmaking-Matting-and-Layering to Homepage