Faux Book Card Tutorial

 This is a great idea for you to try and yet the Faux Book Card Tutorial will show you something a little different

Just a little out of the ordinary and yet so easy to create. You could make your book on any theme that suited the recipient, and then dress it up any way you wished.
Scroll down and let the video show you how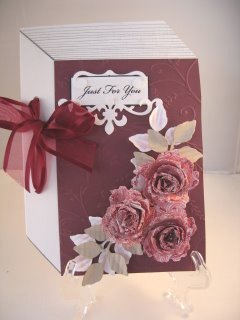 Make it a gardening book and add a packet of seeds to the inside of the card.
Or a film/theatre book and add some tickets to a show your recipient has been wanting to see.

Adding in some vouchers or gift cards is another idea you could try, and they can be for anything that you want to give or the recipient has expressed a wish for.

And as someone suggested to me ... make a detachable bookmark and add it to the spine so that it can be removed for the recipient to use when ever they are reading .

Get the old imagination fired up and see what you can come up with.
Now should you prefer to read the instructions then you will find them just here...
These instructions are very easy to follow but for some reason the photo makes the book look out of shape .... I promise you it isn't and in real life it looks lovely.

So don't let that put you off. Try it for your self you won't be disappointed.

And don't forget to add your photos to the Gallery and show everyone what you created.

Here is the video, it is not long  and I hope you will enjoy it.

The textured effect on the finished panel for the book front is created with an Embossing Folder, and the same effect can be achieved with Masks.

Both of these will give just that extra special look to the panels and stop the card front from looking too plain.
The flowers that I have added are hand rolled  Roses, but you can add some Mulberry ones if you prefer.
Even flat flowers would dress this up nicely.
Tuck in some leaves around the edges for a really lovely display on your card
Add some ribbon along the spine too as that gives a good finish to the look of the card.
On the red one I have actually tied in  quite a large bow and glued that to the spine .
Return from Faux Book Card Tutorial to Homepage