Ruffled Ribbon Tutorial ...
for beautiful effects
Adding ribbons to our cards can make them look something special and this Ruffled Ribbon Tutorial will show you how to get the look and to create a Rose to match it.

You will need a piece of ribbon long enough to complete both projects and some of the super sticky red backed double sided tape.

But if you can't get that then the alternative is to ...
use ordinary double sided tape to hold the ribbon on the card front and then run some dries clear glue underneath the edge and that will hold it securely
There is an alternative way to make the flowers too and here you will find Ribbon Rose Tutorial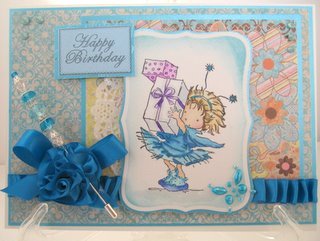 The cute child images on these cards are stamps from Lili of the Valley.

Experiment with the technique and add two rows of the Ruffles along the card... either side by side or along each edge.

Make them in different colours too for another look. Add the Ruffles unevenly for another take on things, but enjoy playing and you will surprise yourself.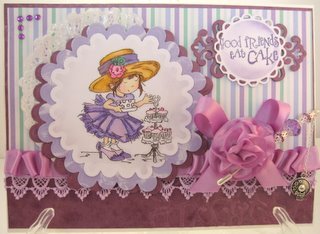 The finished effect is very pretty but make sure you add the rose securely to your cards ... the last thing you want is for the flower to drop off as you give the card.

This is one of the reasons I don't add the punched circle to the back of the flower.

I prefer to glue it in place directly and then I know it is well and truly stuck there.

I hope you will enjoy this Ruffled Ribbon Tutorial as it gives you yet another way to create some flowers for your cards.

Some of the other ways are ....

Organza Flowers
Crushed Flower
Handmade Paper Flowers
Paper Roses

That gives you a varied choice of how you may want to create these lovely additions to your cards.

Return from Ruffled Ribbon Tutorial to Homepage

Search
Custom Search