Using Glues ...


The first thing you think about when using glues is that they will stick things together for you.
Perfectly good assumption wouldn't you say ??  But did you know that you can also have some fun with this product and that it comes in many colours too.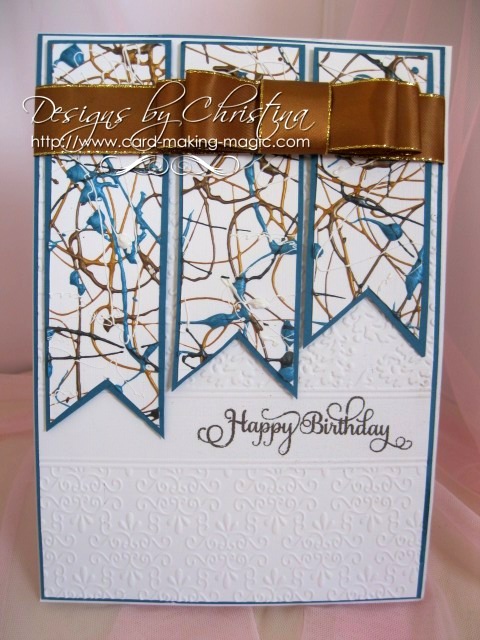 This rather unusual card has been made using an Acrylic glue from Cosmic Shimmer ... and this is a product that is stocked in many places.
The price can vary so shop around for the best price  
It comes in lots of shades as well as glitter and pearl effects and each one can give you a different look. Other brands will give you the seam affect as long as it is a thicker type of glue 
This one has used the darker tones and I have combined Teal, Gold and Black together for this dramatic look
By choosing one of the colors to add in for your layers you will bring the whole look together
I have add in some soft gold ribbon along the top to complete the look
I added the glue to a single sheet of card and then cut it into the banner shapes that I need for my design
---
---
Let the tutorial take you step by step and show you how to get this easy effect for some of your own designs


This card is a similar design as the previous one but for this I have used the pastel tones of Pearl Pink, Blue and Ivory from the Pearly Scrumptious Range that I bought from my local craft store
They give me a softer more feminine feel and are not expensive
The soft satin ribbon in white compliments the look and the flower with its pearl centre makes it special
There is a video tutorial to show you how to make the centres for the flowers or to use them as stand alone flowers if you so wish
and another tutorial that will show you how to create the look of pearls using the same product
But please be aware that an ordinary PVA glue will not give you the desired effect as it is too thin and will not hold the shape you need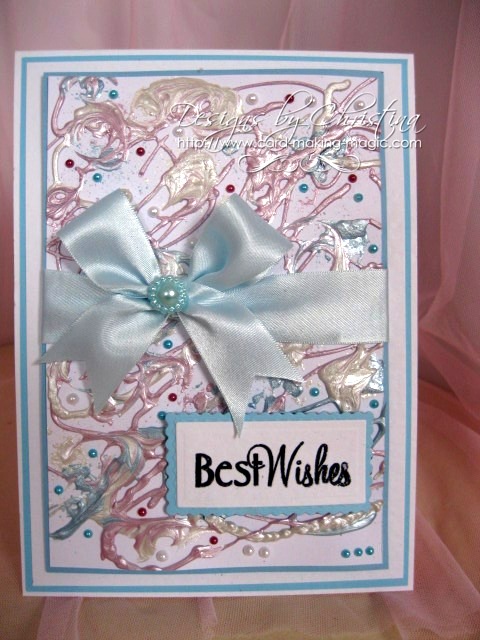 And then by simply just changing the color of the layers that you use and altering the ribbon you can get yet another completely different look for your own creations.
To this one I have also used the addition of tiny pearls dotted into the mix for a more luxury look
For another idea on Using Glues take a look at 
Return from Using Glues to Homepage