Bookmark Card Tutorial ...
...an easy gift to make
The Bookmark Card Tutorial will show you how to make this ideal gift and it is very easy to.
There are many ideas for small gifts that can be incorporated into a card on the website.
It makes things a little more personal and shows the recipient that you care enough to take the time to make them something.
With this idea they will never lose their place in that precious book again, and children especially will love this even more if you add their name to it. 

---
---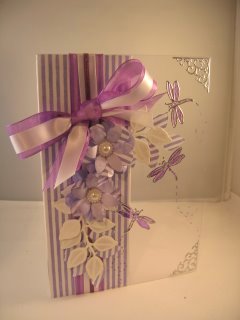 Make it in the colours that suit the person you will be giving it too.
This very pretty lilac is one of my favorite colour ways as it always looks so  clean  and fresh.
But you could make yours in characters for children and more muted shades for the men in your life.... even they read!!
The bookmark can be shaped into any that you like and on the video you will see a quick way to make one even if you don't have dies or punches.
If you prefer to read your instructions then this is where you will find the
Written Instructions. 
There are different weights to acetate but the card will be sturdier and stand better if you use the thicker stuff. 
You have a great selection of Acetate from Crafters Companion




There are several little tips and techniques on the video to help you get the best results for your design so I hope you will try this one out.
And don't forget to add your photos to the Gallery Page so that we can see your creations.
The Bookmark Card Tutorial will be very useful if you want to make a really quick gift for an unexpected birthday.
There are many ideas and lots of them have been filmed for you to enjoy.
None of them are long so please take the time to look around the Cardmaking Tutorials 


Return from Bookmark Card Tutorial to Homepage