Advent Calendar Tutorial

This Advent Calendar Tutorial creates an inexpensive gift that is so unique and very easy to make. Your children will be so delighted with it they won't want to share.
And because they are so easy to do why not make them one for all of them to keep to themselves and then they won't need to.
---
---
The Spellbinders  die that has been used here is the useful little box die shape 
You will find a video for even more ways to use this very versatile Square Bracket Edged Box

This short video will show you how to get the look for your own creation, and then you can dress it up any way you wish.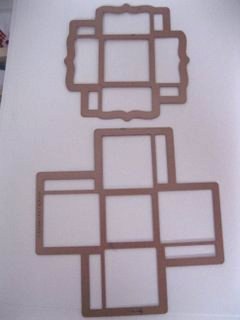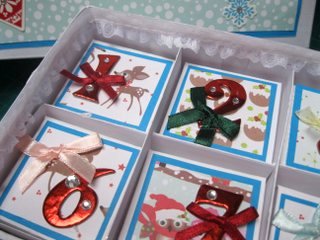 The pictured box is one I made for children and I have filled it with chocolates for them to open on each day in December.
For the larger outside box I have used a 16" Centura Pearl card from Crafters Companion.
It has a lovely sheen to it and the larger card size means I can make bigger boxes for any of my projects.
To the inside rim of each of these boxes I have carefully decorated it with lace and used a hot glue gun to keep it in place.
Each of the numbers has a gemstone and a tiny ribbon bow attached to it.

But this is the one in the Advent Calendar Tutorial that I did not complete.
And to me this is a lot more sophisticated. I love the colors on this box and it is covered with Silver gilding flakes
It would be ideal for the older child, teenager or even adult and this could be filled with soaps, tealight candles,
Or maybe small pieces of jewellery of even perfume.
But what ever you decide to fill yours with I am sure that it will appreciated for the beautiful gift that it is.
The numbers on this box are created from the Alphabet Letterbox set from Clarity Stamp
Each one has been glittered and then add to a different shape from the smallest dies in several of my Spellbinders die sets.
Return from Advent Calendar Tutorial to Homepage