Poinsettia Flower Tutorial.
 Try this Poinsettia Flower Tutorial and get ready for Christmas.

These lovely flowers are always associated with Christmas and the real ones are a joy to have and can last quite some time as the decorate your home

Along with the decorations and the mince pies they always give a seasonal feel to a room...especially the mince pies!

You can buy these ready made but they can be a little on the pricey side so if you want to add some paper ones to your collection of Card Toppers then the most economical way is to make your own.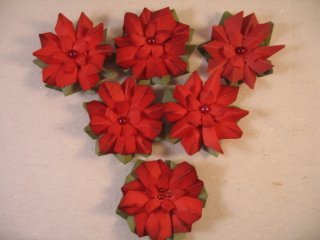 The  little video will show you how to create these very pretty flowers for yourself from a very popular punch that you may already have in your "Stash"

And using the same method that was used to add the summer blooms with the Retro Punch.

---
But please don't forget that these lovely plants don't always have the Red bracts to them.
You can get them in pink and also in a very lovely White too.
And factually they are not flowers but bracts and the real plant can grow quite large

These paper ones have had a Gemstone added to their centre.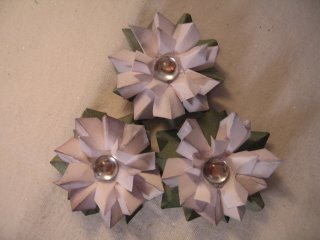 Before you assemble the petals you could add some sparkle to the edges of your flower with some Glitter
I use an Iridescent glitter called Chameleon on most of my flowers and it is from Glitter Magic 
Scroll down to watch the short video tutorial on how to make your own Poinsettia flowers.

It is a very easy and pretty attachment to all your Christmas Cards.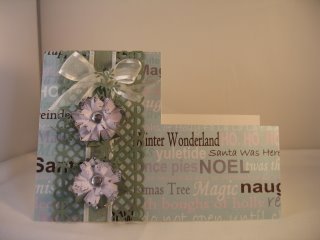 This is just one of many easy ideas for the use of the flowers.
The card was made from the instructions for the Stepper Card
But you could add these flowers to a tag that will be on your Christmas gifts.
Add the recipients name to the tag and attach just one flower ... thread some ribbon through the end of the tag and there you go
And this is a much easier way to keep the bracts red because as hard as I try I can never get this plant to flower again the following year
I hope you have enjoyed this Poinsettia Flower Tutorial and will take a look at some of the others on the website.
For more card making ideas take a look in the Easy Projects  and if you feel more confident then head for the more adventurous ones in
More Projects
There are even some Novelty ones that you can do with the children and they can ...  with your supervision ...  enjoy making some of them for their friends
Return from Poinsettia Flower Tutorial to Homepage