Trellis Card Tutorial ...
... how to make this lovely card
This Trellis Card Tutorial will show you how to it for the "WOW" factor.

This beautiful card is one that always pleases me whenever I make it, or see it made by some one else.

It looks so intricate and always gets comments and yet it is very easy to do and this short video will show you how.

Make it from the colour card of your choice and add any of the embellishments in your stash to make it your unique creation.

If you prefer the written instructions for this card
You will find them here.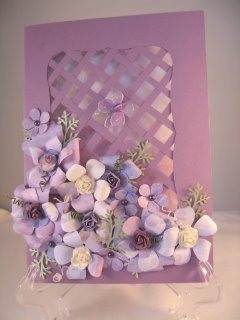 This surely is a card that you would be proud to give for any special occasion.

Imagine how it would be recieved as a wedding card.

You will find several ways to make flowers in Cardmaking Tutorials

and if you make them first they can be drying while you make the rest of the card.

It is a very special card to make and don't forget that

Mothers Day is on the horizon and what could be more special than this card.

Add a beautiful verse to the inside, or the back, of the card and don't forget to add

"Handmade by.....your name" to the back and then send it with love.

I really hope you will give this one a try and let me see what you come up with by adding them to the Gallery Page

Return from Trellis Card Tutorial to Homepage

Search
Custom Search