Spectrum Noir Hair
The Spectrum Noir Hair tutorial will show you how to get the results you want from these lovely and easy to use pens.
I am continuing with this delightful baby image as it is such a pleasure to work with.
And the paper is still a 160gsm with a smooth uncoated finish.
If at any time you are not happy with the results you are getting ... then look carefully at the type of paper you are using.
It needs to be smooth and it should allow the ink to show through at the back of it as this will give you good results and allow the pens to blend together correctly.
In the introduction to these pens I said the only drawback was that the numbers wore off the pen tops quite quickly.
I had a wonderful tip sent in by one of my YouTube followers... and because it is so simple and easy to do I had to share it as I have no doubt that many of you will be following this top tip.


Miriam suggested that each pen top be coated with a clear lacquer before they are used and that would prevent the loss.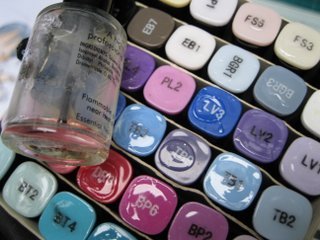 And so I spent some time yesterday coating all the pens in my collection ... top and bottom with ... clear nail varnish ... to stop the wear and keep my pens clearly marked with the colour catagory.
Spectrum Noir pens are available from 
and many good craft shops too.
Plus there are lots more colours there for you to choose from ad the types has also expanded over the years, such as metallics pens and watercolours 
But be selective when you buy as you do not need them all.
Pick your favourite blends in smaller packs and build up your collection from there. 
The other videos in this series are ...
and more will be added as I go along. I hope you wil find them all useful in your efforts to get a good result from Alcohol Marker Pens especially if you are new to them.
The Colour Class Series is to your right.
.

Here is the video for Spectrum Noir Hair..

Take your time and enjoy the process. Colouring should be something you do to relax and take you to another dimension... not something that stresses you out.
If you don't enjoy it then it will be something that you won't want to do and so you will be missing out on a really great way to unwind.
Return from Spectrum Noir Hair to Homepage