Colour Class Yellows
The six pens sets are very easy to work with and this Colour Class Yellows will show you how to get the best from that particular group.
Use them to add dimension to characters , flowers, sunsets and so much more.
 Build up your confidence by working your way through the other tutorials in the Spectrum Noir Series of Colour Class videos and get used to working with Alcohol Marker Pens.
If you are new to this particular medium then   Spectrum Noir Introduction will tell you more about this pen system.
And although there are 168 pens in the full collection you really don't need them all.
 Start your collection slowly until you are happy with what you have and have fun as you work and learn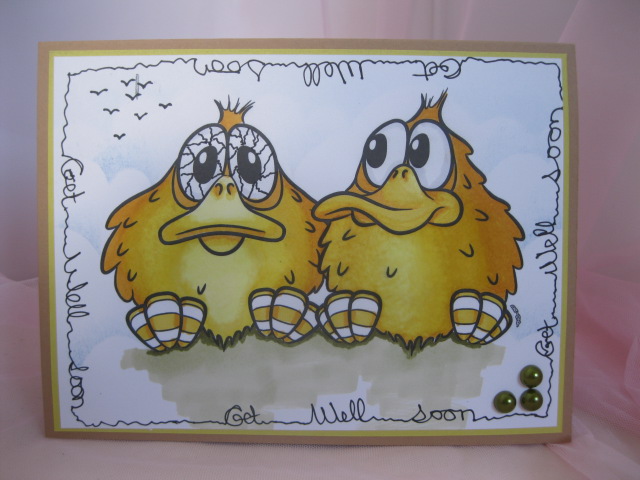 The cute image I have used is from the CD "The Next Big Thing" and that is from Just Inklined. I used a fineliner pen to add the veins to one of the birds eyes to make him look a little poorly ... or hungover !!
Sadly the CD is no longer available ...unless you can find a copy on Ebay ... but there are other CD's from the same company and they are just as good with really cute characters on them for you to color.
My personal favourites are the Wrinklies, a set of adorable older people with zimmer frames and walking sticks. You will need someone with a good sense of humour to send them too.
Just remember to print them off your PC in draft or gray-scale and allow the ink to dry before you start, to stop the ink from bleeding into your pens and spoiling you designs.
You can also purchase a spray that will stop the ink jet ink from smudging
So grab a cuppa  to watch the video on
Colour Class Yellow from Spectrum Noir. 

The other colours I have covered in this series are ...
Reds
Ice Grays
Greens
Browns
Pale Hues
Each tutorial deals with the six pens in that particular set and will help to give you a grounding on each one.
Then as your confidence builds you can try some of the others that will cover pale and dark skin tones, hair, jeans and creating a background with them to match your designs.
There are more videos to be added as I work my way through all the six pen sets so I hope you will come back and join me for more in the coming months.
You will also find me more videos on the Spectrum Noir website at...
Spectrum Noir 
Return from Colour Class Yellows to Homepage