Gansai Tambi Water Colors
Rich and creamy Gansai Tambi Water Colors from Kuretake come all the way from Japan and they will give you some really beautiful results every time you use them
These  Gansai Tambi Water Colors are full of pigment and they will last you quite some time as you will need very little paint on the brush to get a good result.
This little card would be sure to delight any child and it was very easy to achieve.
Now I can hear many of you saying "I can't draw ... paint ...etc."  well my answer to that is neither can I
But you can get over any fear that you have of putting that colour onto some blank card and having a go. Don't be scared
The fence and the birds in this card are free hand drawn and in the video I show you how to do them for your self
This video is quite long as I take you from start to finish on colouring this card. Plenty of time for you to enjoy a cuppas as you watch.
Use any character stamp that you have in your personal "Stash" and don't forget to stamp with water proof ink so as not to mess up your painting.
This is a very old stamp that I have in my collection and I don't know if it is still available for you to purchase
The Christmas tree in this picture is free hand drawn but if you don't feel confident enough to try this then you can always leave it out.
Use a tree stamp instead if you have one but you will need to mask the bear before you add in the tree
Practise on some scrap card first.
The ink that I have used to stamp my images is Archival Black Ink that is suitable for water colours.
This one won't run as you wet it.
You will also need Water Colour Card as ordinary card will pill and spoil the look of your design.
Please be aware that there are different qualities of card and the one that I have used in the video is Daler Rowney Mixed Media Card and there are 30 sheets in the pad for £6.95 
I have included some water colour card from Crafters Companion in the box below as that is also a good card stock to use.
Some card has a rough side and smooth side ... you can choose which one you prefer but both will give you a slightly different look 
Try both sides to see which gives you the best result and which side you prefer.
The dishes for the water are cheap pie tins from the local supermarket and the board that I taped my water colour card to was another cheap item from the same shop
I used some inexpensive washi tape to hold the card in place and that will also help to stop the card from warping with the water.
The brushes that I have used are a # 2 which is the fine one and #8 for the backgrounds.

They are Sable hair brushes but they were not expensive. In fact the #2 brushes were 50p each and so I bought five of them .... cheap as chips !
Please also be aware that there are different qualities of paint and cheaper ones will not have as much pigment in them as the Gansai Tambi Water Colours ones that I am using.
I am not saying that you rush out and buy these paints, but just to make you aware that if you use the ones you have and don't get a good result then check your paints and your card.
I bought my Gansai Tambi Water Colours from  Amazon  and they cost about £22 and the paints for children don't usually have as much pigment in them 
I chose the 36 pan set because they have a pearl, gold and white pans in them and I thought that they would be a useful addition in my colouring. But the all the colour pans, including the gold, silver and pearl,  can all be bought individually as I use them and some will be used quicker than others.
Another excellent brand is Arteza and I also have their 36 pan set. I also have their water colour pencils and I really like the look they give me as well. And to me they seem to be a little easier to work with.
I have also linked to water brushes but I have to say that I am not a fan of this type of brush. I have more control of the amount of water that I add by using an ordinary brush and a pot of water. 
Well two pots really, one to dip the dirty brush in to clean it and the other to pick up clean water to paint with. 
So are you ready to give water colouring a try ???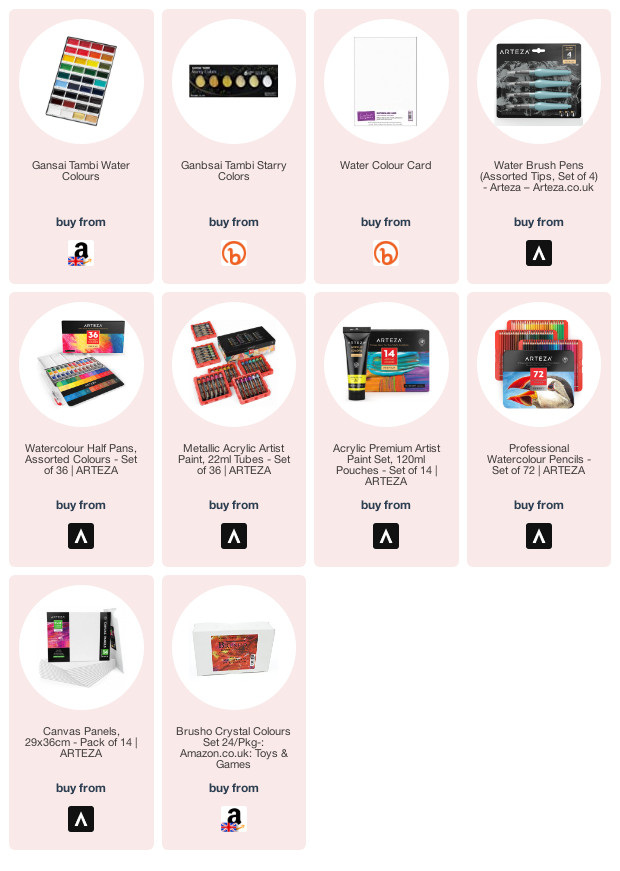 Return from Gansai Tambi Water Colors to Homepage