Baby Onesie Card

This fun and easy to make Baby Onesie card is an ideal way to invite your friends to your baby shower.
It can be dressed any way that you want it and  the base is created from one piece of card
The video tutorial will take you in stages through all the steps you need to take and then dig out the embellishment box and add what you need to make it even prettier
Do you have cards to make for a baby shower?
Or is there a new arrival in your family?
Whatever the reason for making it, this little baby card just couldn't be easier.
And the unusual design of this one makes it suitable for anything to do with a baby occasion  !!
I would recommend that you make a  template  before you start and maybe have a practise run with some inexpensive card
But once you have the template  keep it safe because then you will  be able to use it over and over again.
The video tutorial is not a long one ...  but the beauty of it is that you can stop and re-wind it and follow along with me whenever you wish.
There has been nothing special that has been used in the making of this card just items that you probably already have in your home.
I promise you that it is not hard to do and that you will be delighted with the  end result.
You will find  many other fun cards for you to try in the
Novelty cards Section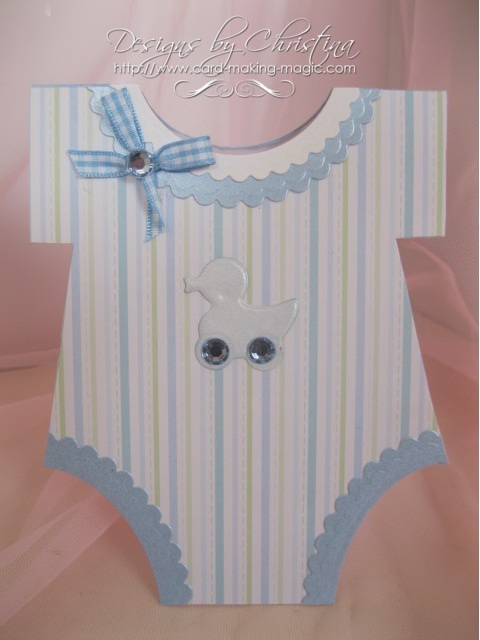 You can use up all your pretty scraps of paper and card to make your design
Then add in flowers, ribbons and pearls, tiny gemstones or bows that would be in proportion for the size of the card.
Get your imagination going and have lots of fun creating these and get the kids involved in the decoration of them
It is an easy project that children will enjoy making and could be just the thing you need to occupy them on a wet school holiday and they are getting bored
If you don't have any patterned paper then you can create your own pattern by running your shape through with an embossing folder.
Any extra decoration around the neck and legs can be created from other card in your "Stash"
For this card I have used the Tied Together embossing folder and added self adhesive pearls on all the cross sections
The lace and bow are from my "Stash" for a little girly effect on this Baby Onesie Card
Return from Baby Onesie Card to Homepage