How to use a Blending Tool
How to use a Blending Tool is a short video that will show you some of the ways to use this little piece of cardmaking equipment.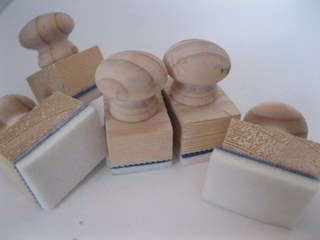 I would bet that every seasoned Cardmaker has at least one of these little treasures in their crafting "Stash"
And if you use many different colours of inks ... then you will know that one is just never enough.
But if you are new to cardmaking then you probably don't know what a Blending Tool is.
---
---
Or you have bought one and  you haven't a clue what to do with it now that you have it sitting on your work top.
 Blenders  are not very big ... but they are designed to have a pad fitted to the bottom which you can then add various types of inks to your projects and create a lovely blended effect.
Well that's the idea in theory ... but many new cardmakers seem to think that they can't do it, or they stress about the effect that they are getting.
It's probably just that they have never been shown  how use the blender correctly in the first place.
Let the video show you some of the effects that you can achieve for yourself.





So lets start with the Blending Tool itself.
It can be fitted with two different types of pads ... Foam and Felt.
Foam pads are for blending water based inks to give a lovely soft look to your projects and can be used on a number of varying card stocks.
Centura Pearl card with it's lovely texture will give you a really pretty, and subtle effect.
I buy my Centura card from Crafters Companion  because I can buy it in larger sheets.
The Blending technique can be seen clearly on the  Keepsake Box  where I have blended two colours together for a very pretty way to store all your little treasures.
Felt Pads are used to give an unusual look using Alcohol Inks.
 These can alter the look of Mirror Card or Acetate and can be coloured to match your project.
There is a page that will show you how to 
Make your own Blending Tools 



Return from How to use a Blending Tool to Homepage