Spellbinders Crisscross Pattern

There are so many beautiful dies to choose but the Spellbinders Crisscross is one that you may want to consider.
It produces a lovely pattern in your card and there are so many ways to use it.
This is one idea for you to try with this particular  die and the result will not disappoint you 
Please scroll down and watch the video tutorial that will take you  step by step through one of the ways to make this die work for you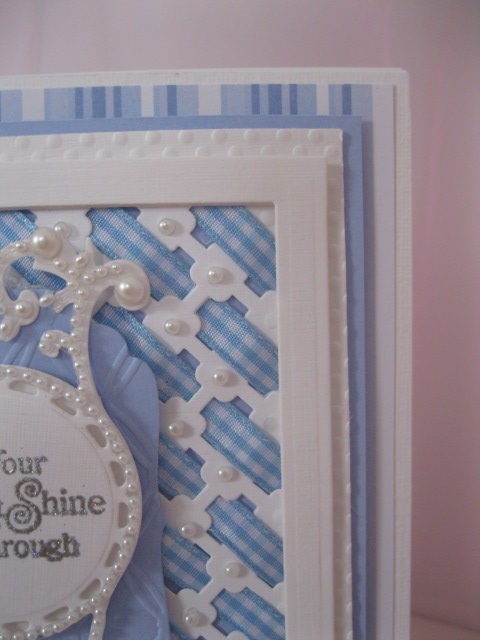 It can be used in many ways.
One idea could be to cut the die out and then add the pattern onto some silver Mirror card
Varying the color of your card will give you a different look each time and try some of the more unusual color schemes and be adventurous.
Pink and Lilac, Pink and Turquoise, Lemon and Lilac, Pale blue and Brown are some of the color ways that will work together. And if you need more help try using a  Colour Wheel 
But here I have cut the pattern in white and then threaded it with some pale blue Gingham Ribbon and the effect is really pretty.
The video will show you another innovative way in which to use the die and again don't be afraid to mix the colours for another look.

If you don't like the look you can always remove the ribbon and start again with something else.
But make sure that you have enough ribbon to complete the project as the last thing you want to do is run out of it part way through the project.
Adding the adhesive tape to the wrong side simply holds the ribbon in place for you.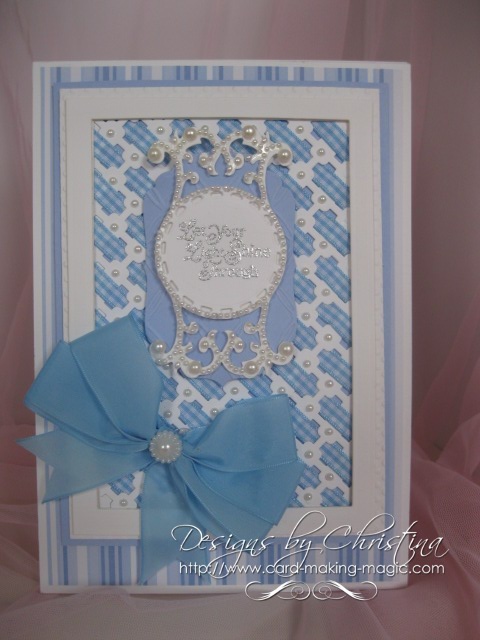 The finished card would be suitable for any occasion.
Just add the sentiment that fits and decorate the front with any embellishments that you have in your "Stash"
I have simply added a Fancy Labels Three for the sentiment and added in the matching pearls from Want2Scrap
The large bow is created from some wide ribbon that I had in my craftroom and I  used a Bow Maker to get the look
The sentiment has been heat embossed in silver and is one of the everyday sentiments from Lili of the Valley
So I hope you will give this and some of the other ideas a try and have some fun with your card making as you do.
Return from Spellbinders Crisscross to Homepage