Tealight Candle Card Tutorial
This Tealight Candle Card Tutorial is short and easy to follow but the results are sure to please you
This is such a  pretty gift for all your female friends and if you use a perfumed tealight candle then the effect can be twice as nice.
You will also find many good tips in this short video that can be used for other areas to your cardmaking to make it extra special
And if you prefer to read your instructions then you will find all you need here in the  written instructions   
These  will take you step by step through everything you need complete your project with photos to help you at each stage along the way
---
---
This project is made from a larger sheet of card so that we can get five tealights inside the channel and the scented tealights them selves are from Ikea

They have many different colours and aromas, and all are very cheap, with about 36 tealights in each box 
So just think how many small gifts you can produce from those candles and they can  all be color co-ordinated with the card you choose
Or maybe as I suggest in the video you could add some chocolates instead, or perhaps some small soap cakes or bath cubes.
Let your imagination run and see where it takes you and add whatever it is the recipient would like
The ideas are endless in making this special small gift for you friends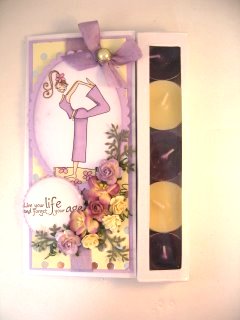 It really is such a simple project but it has great impact, and your recipient is sure to be delighted with their gift.
As I mostly make them for female friends they are a project that can take the embellishments that I like to add ... such as flowers, ribbons and pearls .... and that always makes me happy
The flowers that I have used are from Wild Orchid Crafts   and they have such a huge selection of flowers for you to choose from
Have fun with this idea and see what you can do to impress your friends, especially with Christmas on the horizon.
But it is a gift that is suitable for any occasion and don't forget that they are wonderful if you are selling them at gift fairs or for charities.
Cardmaking Tutorials

Easy Projects

More Projects

Kinetic Cards

Novelty Cards

Papercrafts

Return from Tealight Candle Card Tutorial to Homepage