Die Cutting Tutorial
This Die Cutting Tutorial will show you how to get the best from any of  the dies you may buy.
And if you buy dies then you will need a die cutting machine.

A Die cutting machine  is a piece of equipment that most cardmakers and scrap bookers eventually decide they need.
There are many brands on the market, in all different price ranges, and of course you will then need to buy the dies to go with it, which is another expense 
Choose very carefully and make sure you will get a lot of use from both the machine and the basic dies that you have. 
One my personal choices at present is the Platinum 8 and it is  from Spellbinders.
Thin dies are the most popular dies on the market at the moment, and they come in many shapes and sizes and they are something that I use on a daily basis in my cardmaking
This big machine is the one that will take the larger of the dies through the mouth of the machine
Of course they are a considered purchase as they are not cheap to buy, but you will find a good selection at
Craft Stash
The first Die Cutting Machine  I bought,  many years ago was the Big Shot from Sizzix.
It has been a work horse that has given me good service  and it has never let me down.
Many people don't know how to make the most of these valuable  pieces of equipment,  and so they don't get the full value for money from their purchase that they can.
This short video is made using the Big Shot as this is also a very popular make of die cutter. But they mostly all work the same way. And that is running the die and your card stock through rollers, using the plates that came with your machine, in the correct "Sandwich"
Each machine is different so you will need to sit and read the manufacturers instructions before you start.
The video will show you one of the ways in which you can get so much more from the dies and enhance your cardmaking. 
Die Cutting Tutorial
Try Matting and Layering from mirror card for a luxurious look, especially on cards for a wedding.

Don't be afraid to experiment and play around with the dies you have in your collection.
You will find the versatility of your Spellbinders is never ending and then they won't seem quite so expensive.
Try using them to produce the Pyramage and the Invertage look to your cards for another way to make use of them.
Look after them and they will last a lifetime giving you many years of wonderful cardmaking.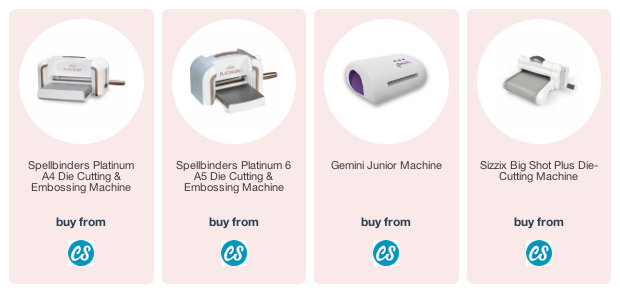 Return from Die Cutting Tutorial to Homepage