Embellishments...
... to add Magic to your Cards

Sparkling magic for your cards comes from the embellishments that you choose to adorn them with and they can make all the difference
These come in many forms but some I like to use on my designs are Gemstones, and beautiful sparkly Glitter
My favorite glitter is Chameleon from Glitter Magic
The smallest of gems can add that special something to a finished card.
Sometimes when you think a card is finished it seems to lack that... "certain something".

You can't quite put your finger on it....but  you know it just doesn't look right.
Two or three gemstones in strategic places can all make the difference.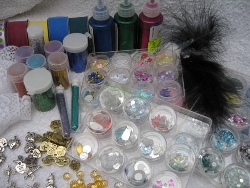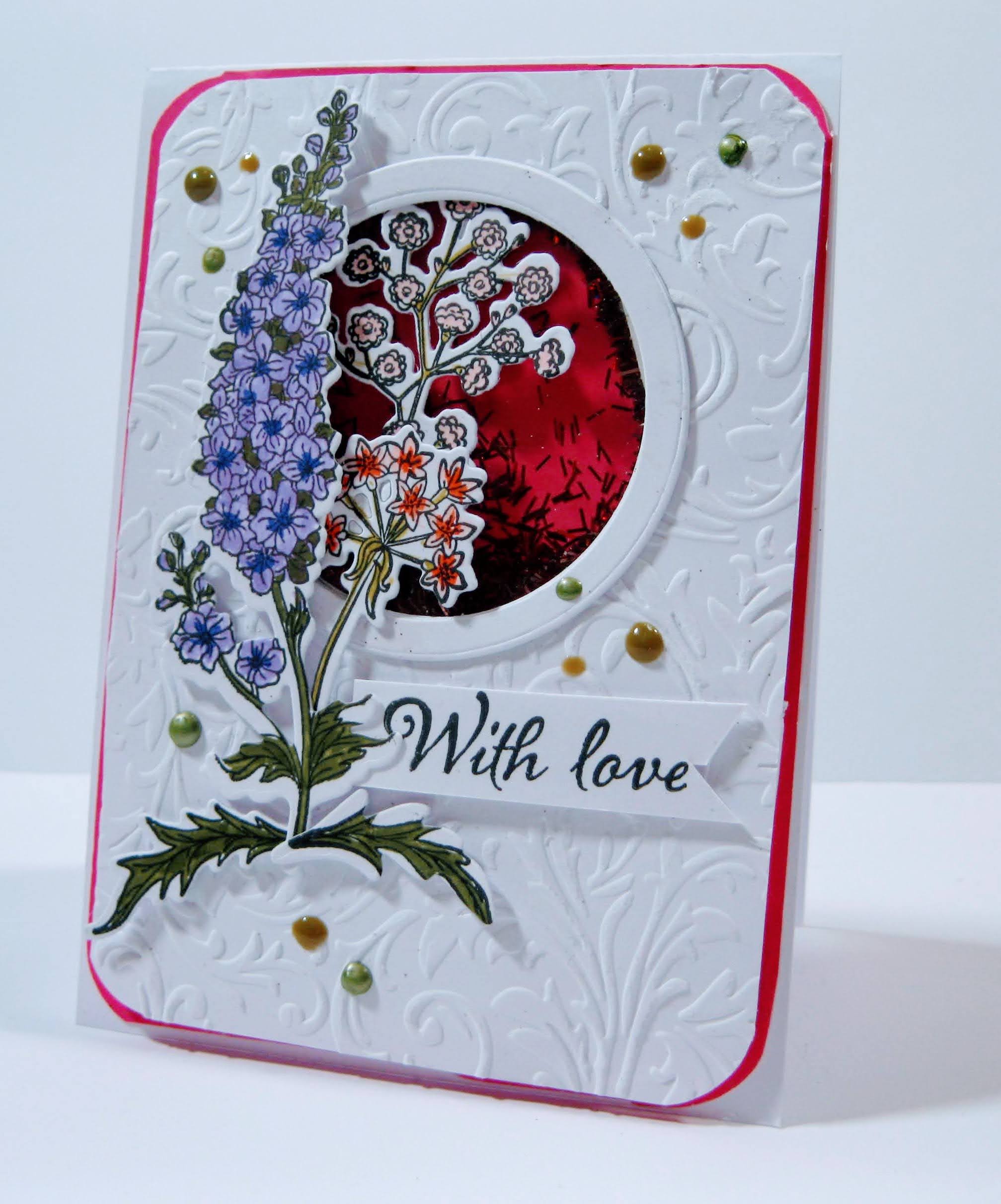 Place them dry, wherever you think they would look good, and when you are happy with the result glue them in place, permanently.
Then stand back and admire your handiwork. Pleased?
Yes of course you are!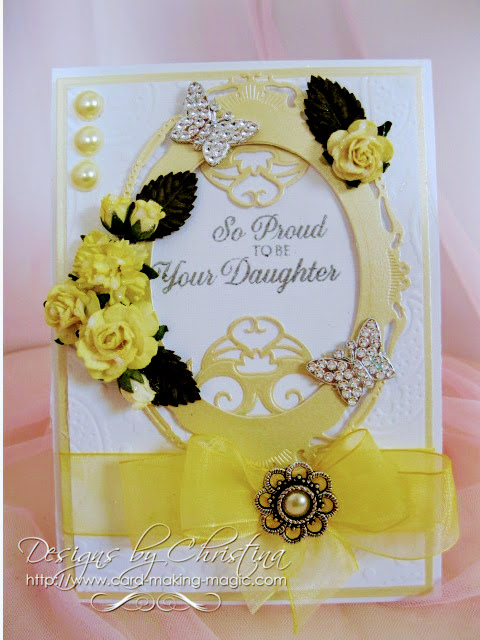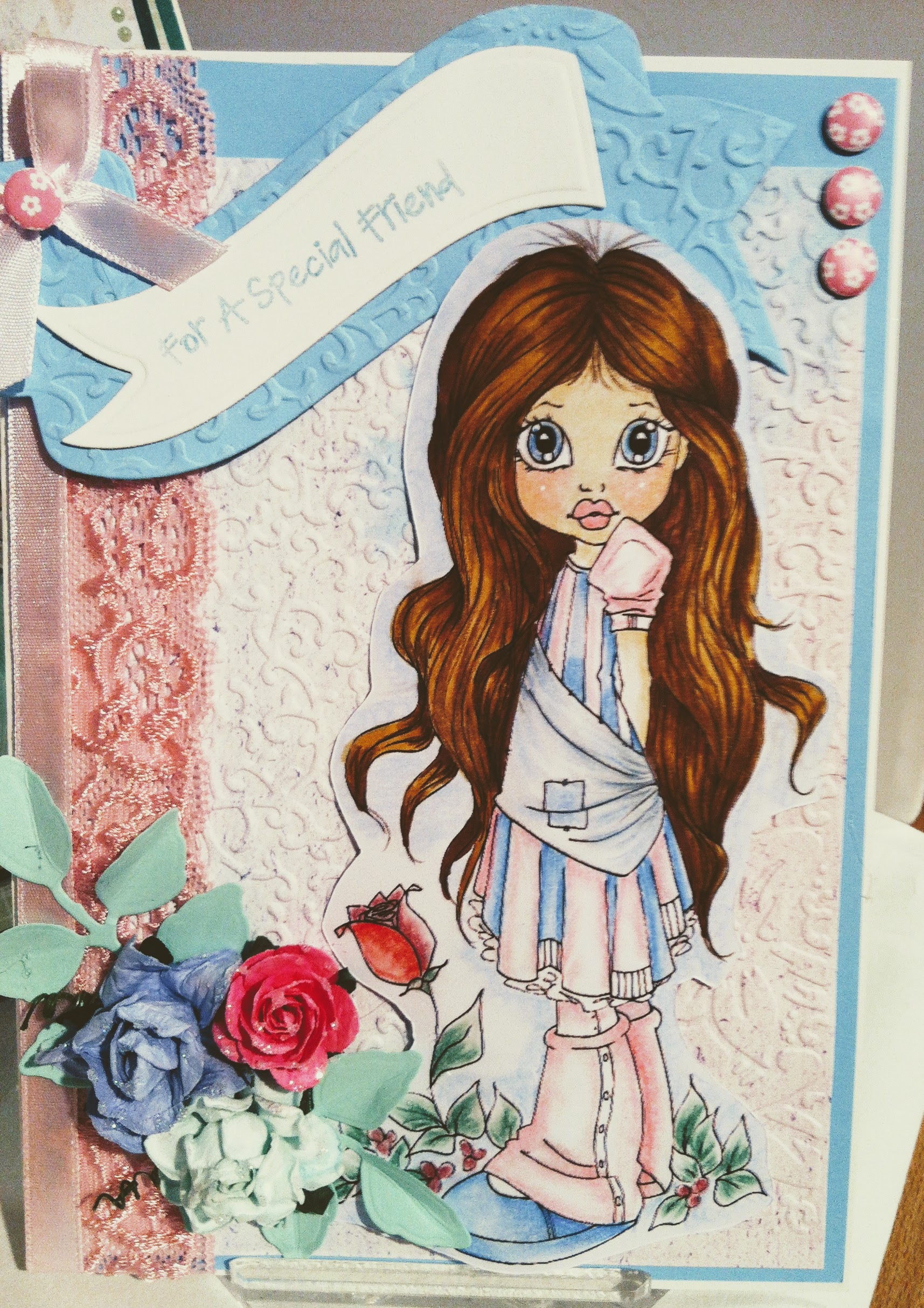 These flowers are small mulberry ones, and they are clustered around  the child's feet 
Use Glossy Accents to add some effects  like rain, and if you wanted to add the look of some snow then try Flower Soft

Don't forget to browse the internet as well for other little treasures, and try the craft fairs that visit your area.
Car boot sales can also turn up some good buys too and are well worth a browse around on a sunny Sunday morning.
It's amazing what you can do with old discarded jewellery 
Look for ribbons, and use the shorter lengths to make a Ribbon Flower.

Look for Lace, silk leaves and Feathers and start keeping Buttons as a cheap way to add decoration to your cards.
And for a fun look add Googly Eyes.

Another lovely addition to your cards comes in the form of Decorative Pins which can really make your "Special" cards stand out from the crowd.
And if the beads that you have will not fit onto the hatpins then here is another idea that you can try ... Creating a Pearl Spray 
Look at what you have to weave a few magic spells of your own.
Have fun and enjoy!
Card Making Materials

Making Embellishments

Beads

Brads

Charms

Eyelets

Ribbons

Skeleton Leaves

Papercrafts

Occasions

Cardmaking Tutorials

Useful Resources

View all Pages and Topics

Return from Embellishments to Homepage