Glitter ...

Adding glitter turns an ordinary card into a stunning one and is   another of my favourite additions and I'm sure it will soon become one of yours
It makes a card really special
when added in small quantities.
Too much can ruin the effect, so go sparingly.
In that way a small pot can last ages.
Match the color to your project.
Use gold or silver for a rich effect.
Try pewters and bronzes for something different.
Or try mixing your own colors and
see what you come up with.
This product comes in many grades and each will help you to create a different look to any of your designs.
There are chunky ones that are really rough and can give you a really textured feel 
Glass and glues in many colors and super fine ones that are ideal for sparkling up text.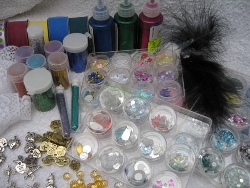 There are some that can now be stamped on and some that feel soft and velvety once burnished into your card
The row of bottles at the back of the picture are special sparkly glues.
These are another useful addition for a subtle effect. Especially useful when working with images.  They can be used to create the appearance of folds in a dress, or highlight a specific area.
When you are working with the loose material always work on a piece of spare paper, that way the surplus can be tipped off the card, and caught on the paper, then just poured back in to the pot for next time.
But make sure you don't contaminate the color with others as the mix will then be one of your own making.  Keep these in a separate container for future use 
They come in lot of different colours, made by many different companies.
This card is created with double sided tape placed in random lines, and then sprinkled with  a blend called  Chameleon from  Glitter Magic
The punched hearts are treated to the same trick.
The sentiment is a pink peel off.
Small dots of glue that have been sprinkled with an iridescant one can look like snow
Shop around they aren't expensive and little goes a long way but here is a little tip for you and that is when you are adding other items to be  your card they will not stick to glitter unless you use a specialised glue 

The one I like to use is called Gel Glue from Pinflair  as this is a glue that will stick anything to anything
A hot glue gun works too but mind your fingers as they get very hot.
For another idea on using this inexpensive material take a look at
this idea for creating a  Background
Embellishments

Card-making materials

Easy Projects

More Projects

Papercrafts

Return from Glitter to Homepage