Button Cards


Never throw away old buttons...recycle and make some lovely button cards, for a cheap and easy embellishment.
My mum always taught me to keep a button jar, because she told me ...
"You never know when you will need them"
...and how very true that is.
Whenever I buy new  clothes I always keep the extra buttons that come in the  little plastic bags safe and in an empty coffee jar.
And before throwing away really un-serviceable old clothes I remove the buttons and add them to my jar also.
Over the years I have gained a lovely selection and they all come into good use, and can be used in many different ways.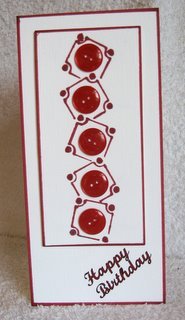 They are a cheap enough Embellishment for you to add them in quantities for a stunning effect, but this card was created with just 5 matching ones.
The card is a Tri-fold with the extra part cut away. Trim this extra piece to a size to fit your card. (Mine is 7.5 x 15 cms)
Add the buttons, inside a stenciled frame, and  ink the edges of the off cut and the base card with the same colour ink.
Layer it onto your base card with foam pads. Add your sentiment to the card.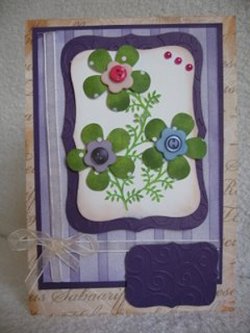 Another idea is to add the buttons as the center of your flowers, or make them into flowers completely.
Choose small ones that all match , or add them as a trail for a butterfly on your cards.
Try using permanent  marker pens  and altering them to suit your project.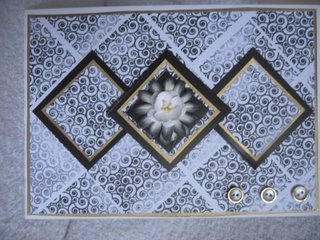 Or simply use matching ones and add them as decoration to the edges.
But whatever you do .. 
Don't throw them away.
They are cheap...but far too valuable to just waste.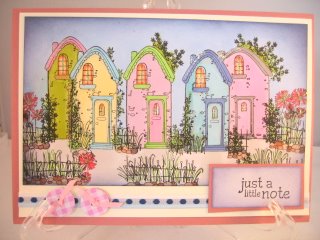 If you want them to match your colour scheme, and you have lots of scraps left over from that project then take a look  at this
handy little gadget. 
You will be able to add these to your button cards in matching patterns and colours to suit.
Return from Button Cards to Homepage