Card Making Sketches


Do you ever get stuck for ideas? Then Card Making Sketches can get you over the block.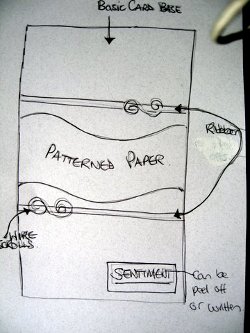 Layouts that can be used over and over again can make all the difference, and save you hours of head scratching wondering what to do next
Whenever you are stuck for ideas then help will always be close at hand, and duplicating a successful design can save you a lot of time.
Even more so if it was a card you particularly liked.
Keep a pad and pencil close to hand and make a simple line drawing of whatever pops into your minds eye.
---
---
The sketch doesn't have to be fancy, just something that helps you put your ideas together.
You don't need to a good drawer or artistic to produce these, just a scribble will bring things back to mind when you are ready to get started on a card.
And for more help with producing your own sketches click the link to read about the benefits of recieving the
free newsletter
and your own FREE copy of
"Card Making Sketches"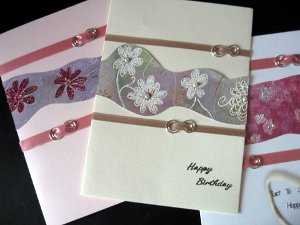 Label your designs with a name you will remember and store them for future use.
I keep mine in a clear plastic pockets, and store them in a ring binder. I just open it and look through them for ideas.
You will have the ideas there, ready to produce cards for any occassion.
Just vary the colours and you will have a different look each time. Turn the design around for another take.
This is the same design done on white, pink and cream card.
The flowers on the paper have been glittered up to add sparkle. The sentiment is a peel off. (An excellent standby if your writing is not neat!)
---
---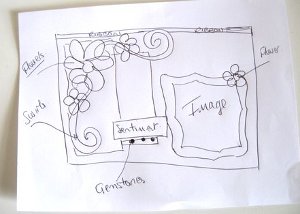 Here is another sketch. This can also be turned around.
Place the flowers at the bottom or top corners for a change, and add the "ingredients" from your "stash".
Use stars or hearts instead of flowers, the choice is yours. Have fun with it and see what you can come up with.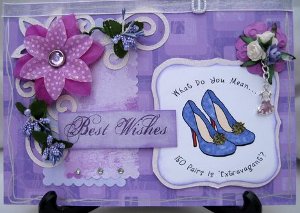 This is my interpretation of it.
I have used glitters and several different kinds of flowers.
There are some gemstones under the sentiment and the shoes are coloured in with pens.
But you could use any image or colour scheme to suit the recipient.
This image, sentiment and papers are kits available to purchase from Making-Handmade-cards 

Different embellishments and the use of colours can make the same design look totally unique.
Add some pretty gemstones, and lovely, shiny glitters. Try adding beautifulflowers made from silk or paper, and why not try making your own Flowers.

Crochet flowers also look fabulous.
Over time you may build up a sizeable collection of card making sketches and then you will never be stuck for ideas.
And don't forget to get your free copy of the "Card Making Sketches"booklet. The link is at the top of the page.
There are several tutorials on the website, and for practical help on creating a card form start to finish take a look at
Return from Card Making Sketches to Homepage