Skeleton Leaves 


Adding Skeleton Leaves in beautiful colours to your cards can give them a lovely gossamer look and can be made to represent all kinds of things from butterflies to angel wings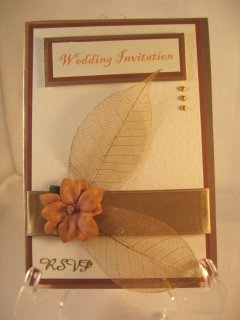 Another addition to your cardmaking stash are the fine delicate looking  Leaves  ... and they are delicate too, especially if you choose real ones.
My advice would be to go for the fake ones that look just as good but are easier to manage
Added as a single embellishment or grouped together they create an individual look.
There come in a range of colours as well as metallic effects and they can be glittered or even embossed to alter the look altogether.
---
---
Buy them in packs of mixed colors and they will go a long way, and they are not expensive.
They can be added to gifts and tags to be added to gifts on special occasions. Team them with feathers for another look
Add them as well to boxes, or your scrapbook pages, group them around picture frames and add them to your cards.
Group them around a cluster of flowers for something extra
By adding glitter, gemstones or other Embellishments you can give them a whole new look.
And you can create your own individual
 Leafy Background
using  some ink 
The ones I have added to these cards are Gold metallic and the shimmer on them does not show up very well on the photograph
But the choice of the Autumn colors sits well with the gold in the leaves and the satin ribbon. 
You can color the flowers and ribbons to match the leaves and this video will show you how 
Coloring Ribbons and Flowers
The packs of leaves can be bought from Wild Orchid Crafts and come in a mixed array of colors in one pack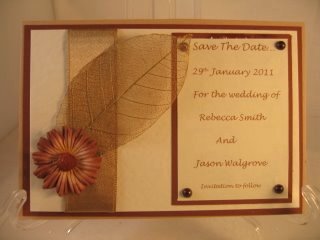 This could be the look you want to achieve for your Autumn Wedding.
There are more ideas in
The ideas will flow once you buy your Skeleton Leaves and one idea is to try laminating them in a clear pouch and add them to the front of your card as  the focal point.
Or make them into a bookmark with a tassel attached to the top through an  Eyelet  and  if you laminate this and give it as a gift it will last through many books that your recipient may read
Always easy to make a few and keep them for Christmas Gifts or a little something for Easter with an appropraite verse on the bookmark for your friend  
Or make lots and donate them to raise money for your local charity 
Return from Skeleton Leaves to Homepage