Charming Card-Toppers ... 
For all your Projects


Card-toppers are the focal point that every project needs, whether it's an image or a single flower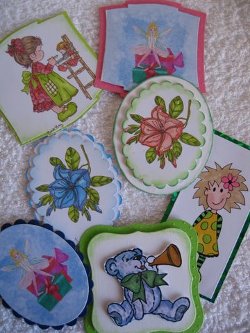 Toppers are basically any thing that you can stick to the top of your card to dress it up.
They can be as plain or as intricate as you want.
Perhaps you want a picture of a landscape or an elegant lady to grace your cards.
Maybe just a single flower that can say so much.
You can buy them ready made and there are always a plentiful supply in all the craft shops.
---
---
But a really satisfying way is to make your own.
Try stamping out an image and colouring it in with your favourite medium
Or how about digital downloads and there are lots to choose from.
On the page for matting and layering you will find some ideas to help you create stunning toppers.
Take a look at Useful Resources for links to other related websites that can provide various toppers for you to use.
For waterfall, tunnel, decoupage and pyramid printable sheets, that you can print over and over again.
How you dress them up is the fun part, and gives you the opportunity to use all your Embellishments.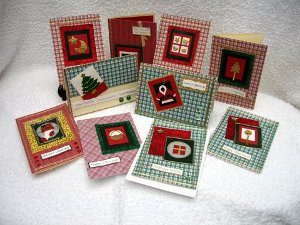 These are some inexpensive shop bought toppers, from  Hobbycraft.
They came in a pack of about 20 and they go along way.
They are in different colours, so you could vary your scheme.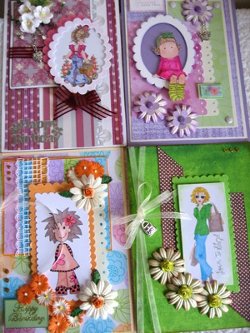 Use the backing paper of your choice to match your project and add the topper with foam pads.
Then just place the sentiment in the appropriate place and there it is.
Some very quick and easy cards to make for all your family and friends.
And don't forget to add
"Handmade by.....your name....." 
to the back of your card.
Return from Card-Toppers to Homepage