Altered Art
Altered Art will give you some ideas of how to change  everyday objects and give them a new lease of life by turning them into something really special.
Take new items and decorate them to suit your chosen colour scheme.
  Make them as a gift to yourself or for some one else.
Look outside the intended use of your older items and think how they can be altered for a fresh new look.

The idea of changing things has been around for a very long time and many people have created objects that are really beautiful.
Maybe you would like to decoupage several layers onto your object and give it a deep glossy finish. 
Or perhaps Gilding Flakes are what you would like to try your hand at and make a plain item look really luxurious.

Embossing is another technique that can work well and change the look totally of your chosen item.
But what ever you do ... do not throw them away.
Give them a chance and see what you can do to give them a new lease of life.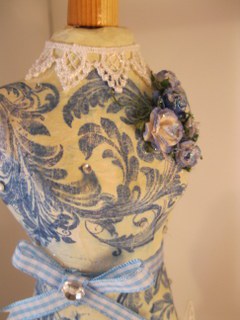 These photos are just a few ideas for ways to achieve the Altered Art look and over the coming months I will show you more.
So from an empty snack tub, an old shoe box and  a jewellery box that has seen better days we will create some really lovely objects that can once again take pride of place.
 I would like to show you how to take these items ... that you have discarded, and are maybe thinking of throwing away.... and many of the ideas will be in Video Tutorials.
Keep them safe until we have gone through these ideas and then think again about how you can get the Altered Art look for your own items.
Or maybe you like the idea of starting from scratch with Paper Mache objects.
There are many items in that range from boxes, cases, human torsos, to books and castles for you to play with.
The world is your oyster when it comes to Paper Mache and you can have so much fun altering them.


The links to each new tutorial will be at the bottom of this page as they are added.
It will be a good time to add in some of the "Bling" that you have in your stash and also a good way to use up paper scraps too.

Please consider adding your projects to the  Gallery Page  and sharing your creations with us all.
And please don't forget to add your email address to 
Dress Form Hat - Another Style 
Return from Altered Art to Homepage