Easel Card Dies
Creating different shapes for your designs will keep your interest in cardmaking going. And Easel Card Dies are made for just that purpose and to speed up the process whenever you want to make a special card for your favourite people.
Having a die that can help in that process will save you a lot of time in measuring and trying to work things out for your self, and often getting it frustratingly wrong 
There are several shapes to choose from with these new dies, to ring the changes in your cardmaking even more, and you can always create another style of card by simply adding them to the front of a  larger card base
    Pentagon              Bell                    Triple Star                Triple Heart
Don't be afraid to experiment with some of the other dies that you have in your own collections, and you will be pleasantly surprised at how easy they are to work with.
In the past I have shown you many ways in which to create this style for your self, without dies, from the basic shape right the way up to the quadruple variety
Triple Easel

Quadruple Easel card

And all the Twisted Easel variations in between to give you a good sound variety of card shapes to create. And I am sure you can create something new and unusual for yourself once you start to make play with them.
Click any of the above links to be taken to a new page with all the different ideas just waiting for you to try
Easel Card Dies
All these Easel Card Dies are basically the same method of putting them together, and the video will show you how I made mine using one of the sets. Then you can decorate your card using the other items in the set or add embellishments that you may have in your own personal stash.
Add flowers to the Round Bauble Easel, turn the Bell Easel into a Wedding card, make the Star Easel into a card for some one who has graduated or passed an exam. 
The world is your Oyster when it comes to creating and this website is full of ideas for you to try out for yourself, just have fun as you create.
I have included the video for  Heart Triple Easel because this will show you how you can create a beautiful easel card using others dies that you may have.
There is nothing better than getting your monies worth from a die set that you have bought, and looking at them in a different way makes them go a lot further and is so satisfying at the same time
You will find all my collections of beautiful dies, stamps, embossing folders and stencils available at
Along with papers and embellishments to help you turn that card into something really special and make you proud to have made it at the same time 
And if you enjoy my pages then why not add your email to the
FOLLOW ME

at the top right of the page ... Thanks XX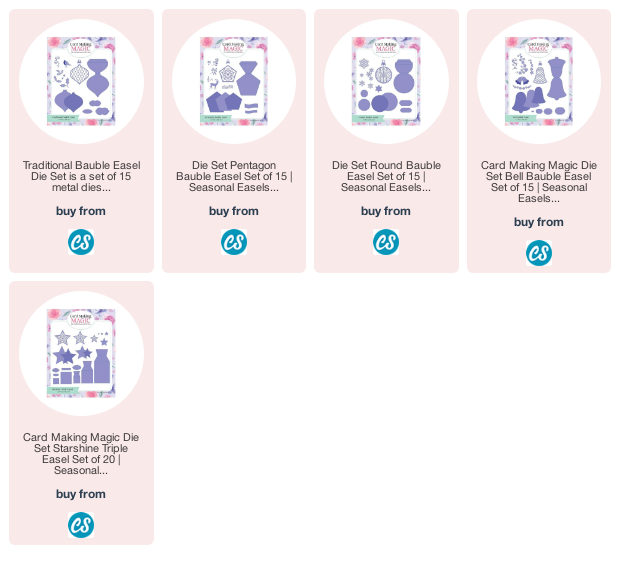 Return from Easel Card Dies to Homepage