Flowersoft


Flowersoft is a lovely product that can be added easily to all your cardmaking projects for a realistic look of flowers, fur, grass or anything else you may want to try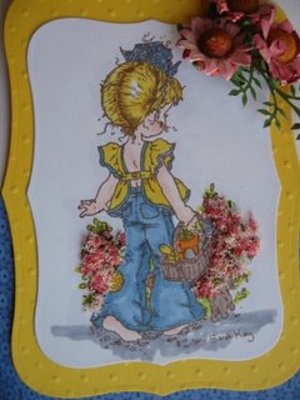 This product is made up form many tiny pieces of colored card fibres that will need to be applied to your design with glue.
The flowers in this basket have been produced using this material and it is a quick and easy way to get the look of many pretty flowers in one easy step
Flowersoft comes in many different colors and can be added to your projects easily
But make sure that the glue you use is the DRIES CLEAR type so that there are no ugly glue blobs showing through the flowers.
The makers of the product supply their own brand of high tack PVA glue, and it has a fine nozzle applicater so that you can position it wherever you need to.
Here I have glued just the flower area of the basket, and to the left of the figure and it makes a very pretty addition.
Once you have added the Flowersoft try to resist the urge to press it down onto your card and flatten the effect. The surplus can be removed once the glue is dry
This  blend is one  called "Sweet Pea" and has a mixture of shades in the one pot but there are many different mixes for you to choose from giving you a different type of flower with each mix
It is purchased in small pots and the fibres are very compressed. It is best to decant it into another container and allow it to fluff up at room temperature, before you use it.
And once it has fluffed up you will never get it back into those small pots
This beautiful image is from Sarah Kay and there are many for you to choose from in her collections 
There is now a really fine mix of Flowersoft that will give you the look of fur on any animal images that you buy and they can be so realistic that children won't be able to resist stroking it to feel the texture
---
---
On this card I have tried to create the look of snow on the rooftops and along the window sills and for this I have used the  shade called  "Polar White"
I simply applied the glue where I wanted the snow to look freshly fallen and then added the Polar White
Use the finer blend and add it to a Polar Bear image to make their fur look fluffy.
It can be used to represent the fur on a coat, or around Santas'  hat. And if you sprinkle some glitter into it as the glue is applied ... to make it sparkle ... then the effect can be really magical
Add the brown blend to look like the spikes on a hedgehog, and the green to look like grass.  In fact the only limit is your imagination.
Just have a play and enjoy what you make
Return from Flowersoft to Homepage