Decorative Pins ...
a lovely addition to your cards


Decorative Pins are a lovely addition to your stash of embellishments and can give a luxury look to any of your projects.
These days ladies no longer wear hats as they did in years gone by, but these embellishments are making a come back in the cardmaking arena and you will find them everywhere
There are many ways to dress up your creations to make them stand out from the crowd and that is something that we all want to do.
These are a shortened version of the old fashioned "Hatpin" but they are just as useful.
You can buy them from a lot of craft or haberdashery shops, but these are from The Hobby House

They are in a wheel of about 30 pins.
I prefer to buy them in the plain pearl so that I can colour them myself, with some marker pens or alcohol inks, to match my colour scheme.
---
---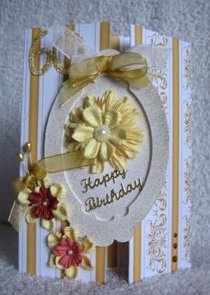 The pins on this card have been coloured gold and secured in to the flowers on the left hand side.
It is a  very pretty Gatefold Card that has been dressed for a 60th Birthday and these little embellishments add that extra touch.
You can buy the pins in teardrop, heart, flowers and globe shapes and many more styles and there are some really beautiful ones around.
The loose ones in the picture have gold or silver around the bottom of the pin head, and they can be a little more expensive.
But if you are only adding one or two to your "Special" cards then they will last you a while.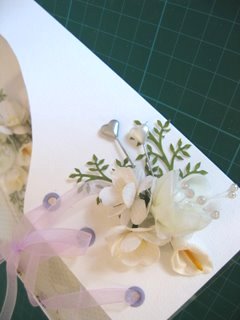 This very special  Bow Front Card  has two heart shaped decorative pins added into the flower corsage.
And the result is very luxurious to this wedding card.
But you can be more adventurous with your pins and add extra beads to them to dress them up even more. 
I have added a video tutorial to show you how to make these elements for yourselves and add them to your cards  ... Small Flower Corsage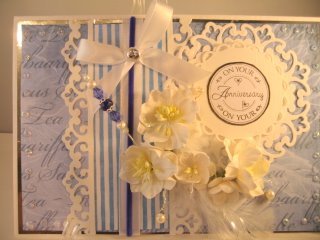 The pin on this card has had  some blue Beads added to make it more decorative.
If you want a fancier look to you creations then I will show you how to decorate plain hatpins for yourself.
Take a look at the Decorating Hatpins Tutorial

I bet your crafting "Stash" is growing daily...Yes?
And you are enjoying your cardmaking using it all. Yes???? I really hope so.
Bow Front Card

Easy Cardmaking Projects

More Projects

Papercrafts

Cardmaking Tutorials

Useful Resources

View all Pages and Topics
Return from Decorative Pins to Homepage