Beautiful Ribbons

Adding Ribbons around the spine, in bows or plaits can enhance all your designs to perfection.
They are a reasonably cheap embellishment and come in a myriad of colours, textures and widths.

What better way to finish a card.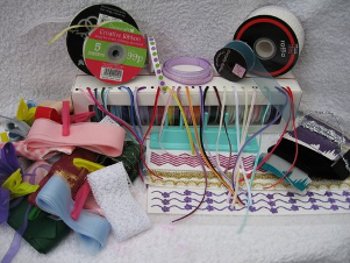 Just simply wrapped around the spine can make your card really lovely.
But why not be more adventurous with this wonderful embellishment.
They come in all different materials sizes, widths, and patterns.
You can even get the same effects from paper if the real thing is not to hand.
My favourite are Organza and they are so easy to make into bows and flowers and they just make a card look so good.
For an excellent choice visit
The Ribbon Room and you won't be disappointed.


Flowers are easy to make with them and they are a lovely adornment. And it is a good way to use up any odd lengths that you have left over.
---
---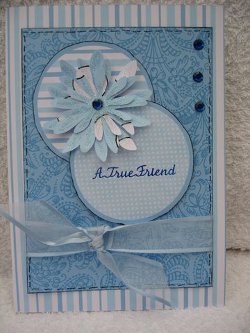 This card would look ordinary without this extra bit, but by fixing it around the panel, it adds the finishing touch.
Navy blue or white would look just as good and it is simply tied in a knot rather than a bow.
This is a good way to add them to your male cards.
Experiment to see what you prefer on your creation.

And another idea is to plait them and add them to your cards and this tutorial will show how to get the look.
Try Velvet for another luxury look, and it comes in many different widths.
Use eyelets to create an extra finish and thread it through the slots.




This technique is Braiding
And if you are new to this then the video tutorial will refresh your memory in esy to follow steps.
You can even turn it into a wreath.
For other ideas take a look at Tying A Bow ... or Using a Bow Maker  and create some beautiful bows for all kinds of projects.
Return from Ribbons to Homepage

Search
Custom Search