Cards for Men ...
Some ideas to get you started

Do you get stuck for ideas to make cards for men? Here are some ideas for you to try.
We covered the Art Deco period for some ideas to make cards for women, so here are some for the men too.
These cards are often a challenge, especially if you love the sparkle, flowers and bling, that is so easy to add to female cards.
However we all have men in our families that we need to make a special card for, whatever their age, be it 0 to 90!
If you keep the colours more neutral and keep away from the flowers...(difficult!) then you are in with a chance, although some men do like the paler colours in their cards. 
There are lots of themes on which to base your creations and some will depend on the person you are sending the card too.
What colours does he like, what occasion is it for and what age group is he in 
Take a look at the Paper Shirt Tutorial
for some really neat ideas to base your themes on.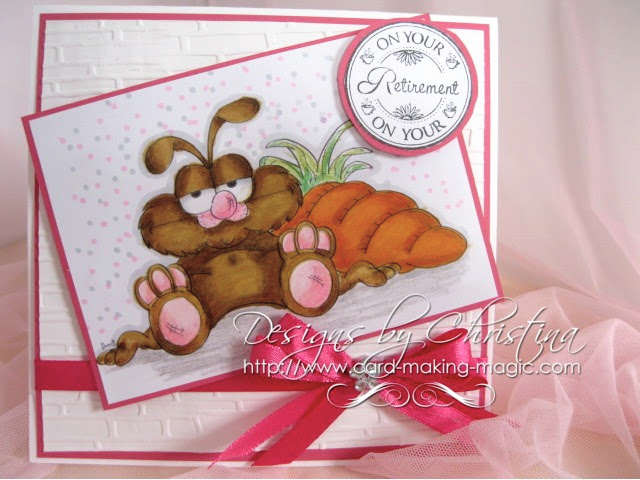 Fun images can always make your recipient smile and this rabbit has been coloured and added to the card 
He is from the CD The Next Big Thing by Just Inklined and I think he is so cute for somebody retiring and looking forward to a more laid back future. 
Planes, boats, bicycles, cars or motor cycles are always a good option. 
And hobbies such as fishing. golf, sailing, hiking and skating are usually safe choices too.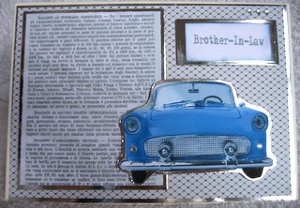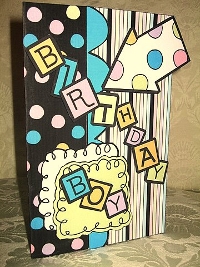 Older boys may like spaceships, robots or cartoon characters and for teens how about the funky colours in this card.
Small children like animals, toys and their ages displayed to the world.
So make a card from their Age and add their name on it too. 
And again stick to bright colours to get their attention 
For the older age groups consider their occupations, skills, hobbies, or sports that they enjoy.
There are lots of kits on the market to cater for male themed cards, and although not as easy to make as those for the ladies you could still put together a really good card for men.
At the bottom of the page you will find the links to some Faux Effects that are particularly good for any of your male cards.
Return from Cards for Men to Homepage