Add your own Special Magic with
...Crochet Flowers...

These very pretty attachments are Crochet Flowers and they can look really stunning on your projects.
This is very old craft and maybe you have seen your Gran or Great Gran do it and been fascinated as her fingers worked the yarn.

I taught myself how to do it many years ago from ... in my teens ... by following the instructions in a magazine.
I got hopelessly lost at first but once you understand the stitches it is easy to do.
I have made all kinds of things since then.
I used to make hats and scarves for school chums,  waistcoats and socks to keep out the cold weather.

When my children were babies I made them  dresses and cardigans, bootees and bonnets.
And also for my Grand children too.
It's a really relaxing craft and the results can be so pretty.
Having got this skill in my fingers I decided to put it to good use on my cards.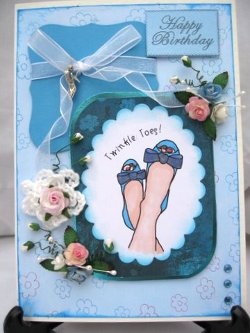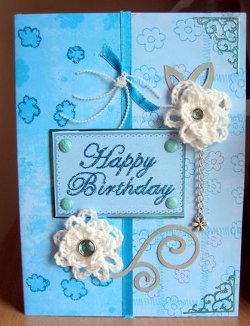 These flowers take very little yarn and can be made in no time at all.
Make a batch as you chat to friends or watch TV in the evening.
This card has two flowers with a gemstone brad in the centre.
It is attached to the card with a small blob of silicone glue.
The charm is attached to the brad exactly the same way as it is in the paper flowers section
Make lots of them in different colours to match your theme, or maybe two colour flowers to ring the changes.

There are many books available on how to make these flowers in lots of different styles.
Stitch some beads onto them to make them sparkle.
Or even crochet  them completely in a sparkly yarn for added glamour.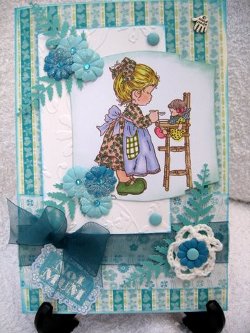 You can make all manner of things too. Crochet some butterflies or hearts and add them to your creations to suit the occasion. Perfect for covering up that inky fingerprint ..  OOOPs!

For your free pattern of the crochet flower that I have featured just click on the link to Woolcrafting.com  and print  it off.
The link will open up a  new window for you so that you can come back to this page when you are finished 
Have a look around Jill's'  lovely site for more crochet ideas.
There are full instructions on learning how to crochet and all the stitches are explained fully.
Give it a try for magical effects!
Easy Cardmaking Projects

More Projects

Papercrafts

Novelty Cards

Kinetic Cards

Cardmaking Tutorials

Useful Resources

View all Pages and Topics

Return from Crochet flowers to Homepage