Lovely sparkly "Beads"
... another wonderful effect on your cards

Beads are not just for jewellery makers ... Beads can look just as good on your cards.
They are a wonderful, inexpensive way to add glamour to any of your designs.
Have you ever bought something in the past that came with these tiny embellishments in a plastic bag, just in case you should lose an original one.
And have you simply just thrown them away?
Well now you can add them to your ever growing "stash" because sooner or later, I promise you, you will find a use for them on your cards!

Take a look at the centre of this paper flower.
These are called seed beads and you can see the effect that adding a few can produce.
Three layers of petals produces the decoupage effect.
The centre of the flower was simply glued and some orange beauties sprinkled in to look like the seeds in the sunflower.
The edges of the petals have some added glitter for an extra touch.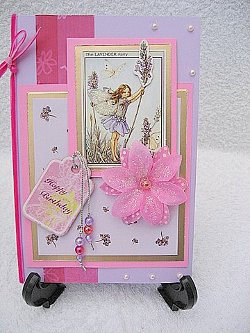 Add some to silver or gold thread and hang them from the spine of your card.
Alternate the colours in your scheme and use different shapes too.
The tag in this "Fairy" card has silver cord which is then threaded with two blending colours, and attached to the card with foam pads.
Another idea would be to add tiny beads, in a line, along the body part of a butterfly for a really effective look. You could use self adhesive pearly ones for this for a really pretty look.
Glue the central body part to your card and leave the wings shaped to look as if it has just landed on the paper.
Adding a little foam pad beneath each of the wings will keep them raised slightly off your card.
Use them to represent buttons on the clothing of a character image.... or add flower shaped beads to the hair of your girly characters.
Add bow bead to a teddy bear stamped image to make him look really cute.
The possibilities are endless once you get your imagination working.
They are a cheap and easy way to add that extra dimension to your projects and there are hundreds of different style, colours, shapes and textures to use, to suit whatever it is you want to create.
Look in the craft shops or haberdashery stores, and don't forget the ever useful craft fairs too.
Some more ideas for you to try ...