Googly Eyes

Googly eyes are a cheap and cheerful embellishment to add that fun element to any of your projects
These cheap and cheerful embellishments are some of the fun things that you can add to your cards and children especially enjoy shaking them to see the eyes move 
And as they move around they can create lots of different expressions to your character or animal cards and they can bring a quality to the faces that is just priceless as they finish off that special card.
You can get them with eyelashes attached to them for something extra special
There are lots of eyes in the pack and they come in lots of different sizes and eye colors and this is just a small selection.
You can add them to the character with small glue dots, a small blob of silicone glue or Pinflair straight from the syringe ... or indeed any wet glue that you have in your crafting "Stash"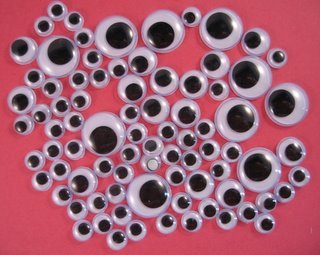 They can be adapted to suit any age group and they will also add a certain flair to your male cards too
I have added eyes to many of the character cards in the Novelty Section
You can also think outside the box and create this fun card easily. All I have used is just two of the eyes from my pack 
Practise drawing a profile onto some spare card, and when you are happy with the result you can keep this safe as your Template

Draw around your template twice, onto some skin toned pink cardstock.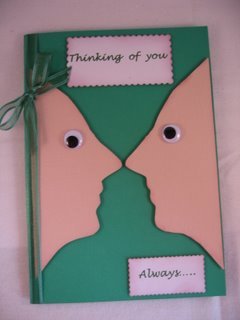 Ink the edges to add a little depth, and fix them onto the card front with foam pads
Make them face each other, and add the eyes in the correct position.
You could add beads to one as a necklace and some hair to frame the face if you felt adventurous enough
The  sentiment can be for any occasion you wish, and a little ribbon will finish it off
Think of a birthday verse or Valentines Day message and add it to your card front
This simple card for a childs birthday is jut a stamped and colored image with the Elephant decoupaged onto the heart shape.
Matted and Layered panels behind in blending colors and the addition of one Googly eye to bring the elephant to life.
And I know one little person who is going to be delighted with this card
Return from Googly Eyes to Homepage