Adding Lace to Cards

Adding Lace to cards can make them something really special and is another way to make them stand out from the crowd
It doesn't have to be expensive lace and it doesn't have to be just fro your girly cards either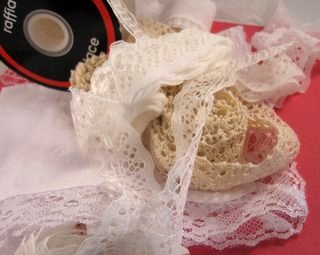 This very pretty embellishment can add a touch of luxury to any of your designs.
It comes in many different styles, colours and widths.
There is Crochet lace and Guipuire as well as some very beautiful Vintage lace ... but of course that comes at a price

---
This Owl card has the Rafia Lace added under the image panel.
You can alter the colour of this quite easily with your Alcohol Markers or sprays but allow it to dry before you add it to your cards
And please make sure that you have something underneath to protect the surface as you work, because the markers are permanent ink
This is a finer lace and it has been wrapped around a separate panel with some ribbon over the top.
It will hide where the panel joins the main card.
I find it better to work on a separate top layer  first and then add that to the base card.
That way all the workings will be hidden behind that panel keeping the look of your card neat and tidy
The image panel on this card has had the ruffled lace added around the edge.
I have used a strong double sided tape to hold it in place but you can add it with a glue gun if you prefer.
And again because the panel is separate from the base it will hide all that ugly tape from view.
Extra Organza ribbon has been added to the spine of the card for an added effect.
Lace can also be a useful addition to cards for the men in your life.
Rafia Lace is reasonably cheap and can be bought from the Gardening section in your craft shop or Garden Centre.
It is a good addition to male themed cards because it is not the ornate type of lace and it can be used for any occasion.
The buttons and the Distressed background paper will keep the look rugged enough.
And if you don't want to add the real thing then Paper Lace is an alternative you may like to consider.
Return from Adding Lace to Cards to Homepage