Card-Making-Books

Card-making-books are there to help and inspire you with pictures and projects as well as information.
Keep them safe and look after them and they will serve you well.
They are also another very useful resource that can help you as you learn about the hobby.
And there are some really excellent ones on the market that you can refer back to time and time again, both soft and hardbacked, and digital copies too.
They will usually give you a more in depth tutorial on how to make the particular cards than a magazine will, and so are good to collect on the subject that you are researching.
And there could be twenty,  thirty or more lovely ideas for cards that you can make.
They will cover all sorts of occasions and techniques, but there are those that just deal in one particular aspect of cardmaking ... Stamping, Christmas, Parchment, Baby cards or Wedding themes
Yet others may  have a complete project inside for you to remove and complete, such as decoupage sheets or maybe some free backing papers.
Some will have templates in the back, for you to enlarge via your computer, and then print out for your projects.
Others  will have a collection of verses and poems.
Those in the book are free for you to copy and print out as beautiful inserts for the inside of your cards.
There are some beautiful sentiments and the right words will finish off a card to perfection.
There are also websites that offer a mini version that you can print off and use.
 And some give away free digital images that you can print off and colour
You can store these on your PC, then you can choose the verse or poem you like, and it's there for you to use any time you need them on your cards.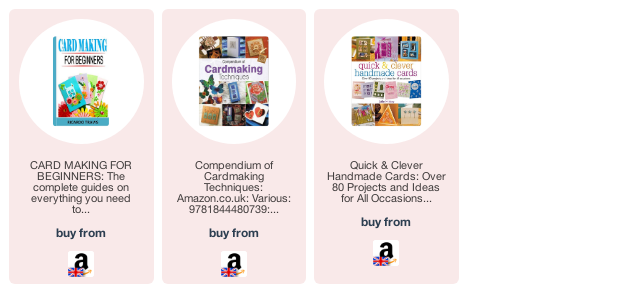 There are books written for all levels of card maker from beginner through tot he very advanced. 
I have added some titles above that are available from Amazon and the last one is from an author that may be very well known to you from the UK
Julie Hickey
who now also has her own brand at Craft Stash.
Many craft shops now stock these kind of Card-Making-Books at a reasonable price ... but don't discount your local library either.
You can while away a few hours sitting quietly reading either in the library or in the comfort of your own home.  But you are sure to find some technique or idea that you would like to try.
They usually have a section that deals in hobbies and there is sure to be something on this fast growing pastime.
This website offers you a free copy of Card Making Sketches to help you with laying out your designs. Just add your email address into the box to download your copy.
Return from Card-Making-Books to Homepages