Feathery Cards...
...for dramatic results

Feathery cards, whether pink, blue, black or white can look really spectacular.
There are many different types of feathers and each one will give you a different look.
There are many in a pack and so you will have lots to play with
And what is more important is that they are really cheap to but. Look in the craft shops or your local haberdashery store 
Your sure to find the style and colour you are looking for to complete your project.
How feminine is this card?
The colour,  the Basque and the beautiful feathers are all designed to make this a real girls card.
The fold for the card is a Gatefold and the inside can be decorated anyway you want. I have used matching papers to compliment the image and both are digital images from Making Handmade Cards
The feather is fixed onto the base card first, with some strong glue, and the Basque is decoupaged on top, to the left fold in the card.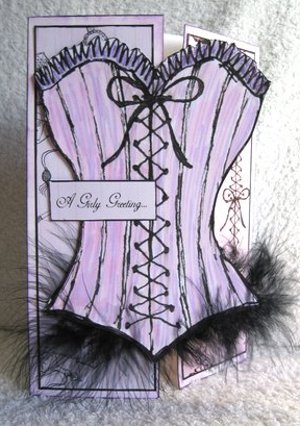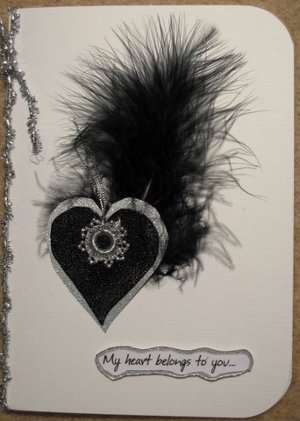 A large black feather was used for this card and added to the card as before.
The heart has been heat embossed in black and pink and then mounted onto silver  mirror card and added with foam pads
Very simple and easy to do, and yet very effective for Valentines Day

Although these cards are dark and dramatic, feathers can be used to great effect on baby cards too.
Pretty pastel pinks and blues can be added, and children will love the texture of the card.
These are just some of my ideas, let your imagination loose and experiment with this very inexpensive material material.
You will be very pleasantly surprised at what you can produce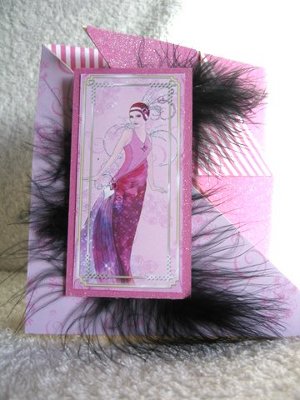 Don't be afraid to alter items that you would otherwise have thrown away either
This is an empty snack can and I have decorated this with flowers, ribbons and pearls to make it into something that could grace anybody's dressing table 
Once I had finished this it still needed that little extra and so I reached out for the feathers... and what a difference they made.
I have a tutorial on how I completed this project and if you save the cans you too can do the same ...  Treasure Box 
So you can see that it's not just  cards that can be changed with this useful embellishment but other items too.
Add them to lampshades for home decor to compliment your bedroom
Or buy some cheap notebooks and dress them up as gifts for your firends and again there is a video tutorial to show you this neat idea too.
 Altered Notebooks that have feathers attached can look stunning. And if you don't want to use the real thing then look for dies that will cut out feathers from card and use them instead.
They can be just as effective on your Feathery Cards
Have fun with all your crafting
Return from Feathery Cards to Homepage