Eyelets

Eyelets are a useful addition to any card makers "stash", and they can be used in a multitude of ways.

Try adding ribbon in beautiful colours to match or contrast your cards.
Use these little additions, either as a way of attaching the ribbon, or threading it through the holes in a card.
A hole is punched into the card.
Pass the metal through and then set into the card, using the tool and the hammer.
The back is curled under, with a tap of the hammer, securing it to the card. Choose your work area carefully though as you do not want to cause hammer rash on your best dining room table.
And this form of setting can also be very noisy and maybe not a good idea if you have dexterity problems
But you can also buy eyelet setters that make the job a lot easier and far less noisy. My personal choice is the Cop-O-Dile and you will find more information on this in  Eyelet Setters
There are two versions of this particular tool and the one you decide on can depend on your budget 
Not as cheap as the basic one but it can save you a whole lot of work. Shop around for the best price and start adding some pretty effects to your cards and projects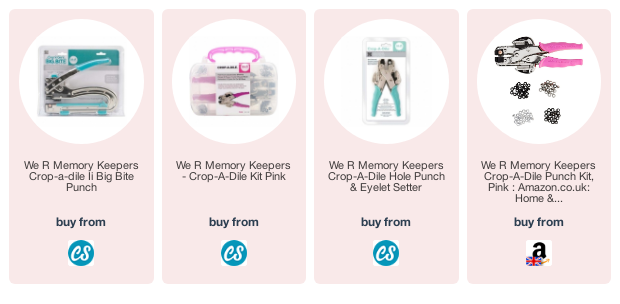 Return from Eyelets to Homepage