My Box Designs
Boxes are always a useful thing to have in your home and my box designs are beautiful easy to use dies will help you make the perfect box every time for any occasion you may need one for. 
They are a wonderful way to give a gift and make it so much more special to the receiver. 
Decorate them to suit and fill with gifts to match the recipient and then give them with lots of love
Here are just some of the boxes that can be made with this collection of dies and with a little imagination many of them can be extended to make taller sides to the shapes.

The Heart boxes already come in two different sizes, 4x4 and 6x6,  which makes them perfect for Weddings as Favor treats. Fill with almonds for your tables or add a gift to them for your Bridesmaids

The video will show you how I created them and the method is the same for either size. And just by changing the colours you can make them match the theme of any wedding they may be for.
And if you have many to do for a large wedding, then involve the family and do all the die cutting first, all the gluing next and the fun part of dressing them as you like.
My Box Designs 
Heart Shape and Circular Boxes & A5
The design of these boxes is with the opening at the top for you to slide the card into them easily. But you can make some of the boxes into a different style such as a Pizza box or with the top separate from the base, rather than all in one piece.
They can also be turned into envelopes if you wished and the video below will show you how to do that. The card to go inside the envelope will need to be kept relatively flat to be able to close, but they are quite strong once constructed.
My Box Designs
Envelopes and Oval Boxes
Emerald Box  & Tall version
Pizza Box
Octagon Box
So there you have a wide and varied  selection of videos to show you how to create my box designs for yourself. You will find many more video on my YouTube Channel for other boxes, as well as lots of other ideas that you may like to try.
You have the freedom with all my dies and collections to make and sell them. As long as you have made them they are yours to do with as you please.
But don't forget to mention that they are from Card Making Magic  and they are available from
Click the links below to open a new window on yet another collection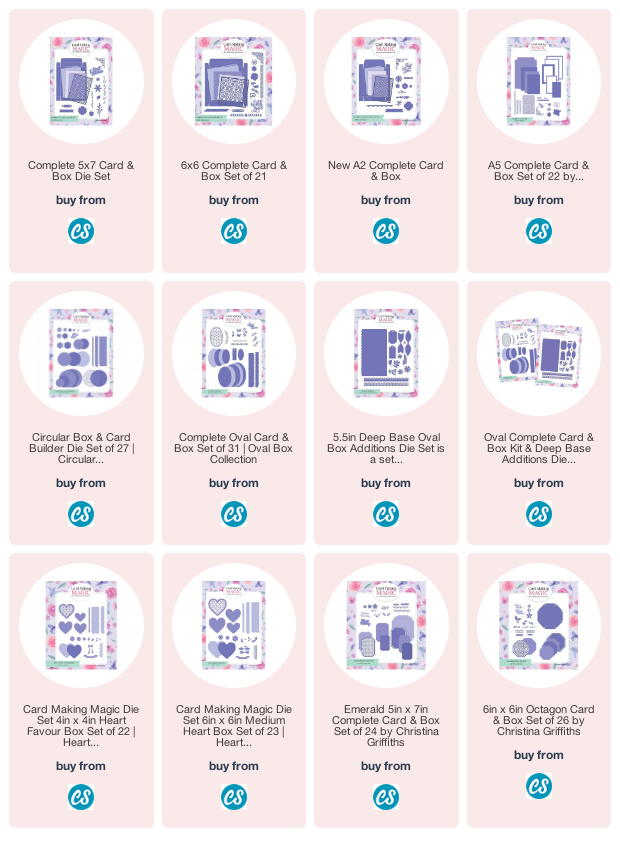 Return  from My Box Designs to Homepage