Card-Making-Newsletter

A special invitation just for you, my visitor, to join the
card-making-newsletter which will be sent to your inbox each month.
All the new pages will be listed as well as any new products that I have come across that you could find useful in your own cardmaking.
I will also include any of the new products that I have designed that are available to purchase through Craft Stash 
Join the special group of card makers and sign up to receive this free monthly newsletter.
Make this your community to share photographs, ideas, tips and techniques.
And get a free copy of 
"Card Making Sketches"
This is the first booklet and it is designed by me to help you plan out your cards using sketches.

On the website you will find lots of projects that you may like to try  and the booklet will help you to plan out those designs as your confidence grows
I will be adding even more projects to the website for you to try, and there will be some old and some new techniques that may interest you.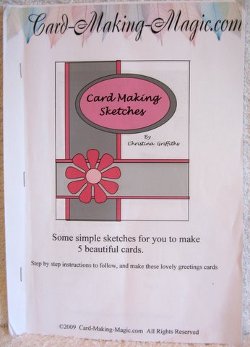 Card-Making-Newsletter
The newsletter will keep you up date with everything that happens at card-making-magic.com

Subscription?... How much does it cost?
There is no need to worry.... it's FREE and all you have to do is just leave you e-mail address to receive it.
But have a good look around my website and  see what you like.
I hope you enjoy it. There are ideas for your card-making, and many other projects for you to try.
And much more will be added as I go on, but I am still learning about building a website too, so your patience is appreciated.
And don't forget that your ideas can be added too. There are other forms for specific cards that you can use around the website.
The Special Occasions invitation is for those special cards that you may have made, and that you would like to share, along with your story and your photos at the same time, we would all love to see them.
Together we can make these pages grow, to tell everybody the benefits of making your own cards.
The fun to be had crafting with family, especially children, friends, in a card making group or simply by yourself.
And the pleasure you feel seeing someone's face when you give your creation to them.
So why not add this site to your favourites and be in at the start of this exciting new website.
Click the Follow Me Button at the top right column 
so that you will always know when a new page is added to the website

Return from Card-making-newsletter to Homepage