Triple Twisted Easel
... for the "Wow" factor to your creations 
Another gorgeous card to make and the Triple Twisted Easel is sure to please you and the recipient lucky enough to get one of your designs

This card is truly lovely and the picture does not do it full justice.
It is another easy to make project, and one I am sure your going to love.
There are several more variations on this theme for you to try, click the links below for more step by step instructions.

Easel Card
Twisted Easel
Double Easel
Double Twisted Easel
Triple Easel
Quad Easel
Gatefold Easel 
---
---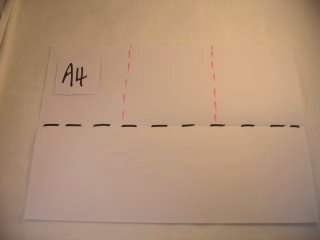 Step 1
Take your A4 card and lay it down so the long edges are at the top and bottom. If you are using patterned card then you will need two or three sheets of card the same
Crease and fold the card in half (The black line)
Mark one half into equal panels and cut to the centre of the card. (The pink line)
You should have three equal panels to work on
If you have used patterned card then it would be my choice to have the pattern facing up as you start to make the base
Step 2
Now you have several options open to you...and that is which way to twist the easel supports.
Here are some ideas you may like to try... 
Step 3
Crease and fold the card to the options you choose.
You will need three more panels added to the supports but only glue them to the section of the card as shown.
Mat and layer more panels from card or paper onto them making them slightly smaller each time.   These can be cut from the patterned card so that it is visible on each of the easel stands
If you wanted a mirror look for yours, but don't have any to match your scheme then try  this technique to give you what you need.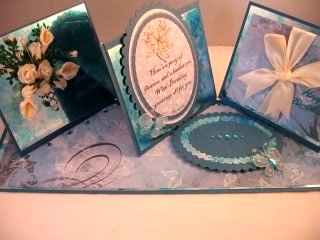 Add any embellishments  that you have in your stash and make the card as pretty as you want.
I have added
Ribbon 
Flowers
and Gemstones to mine along with  some small organza butterflies. The gemstones have been added along the base to be used as "Stops" for the Easel to stop it sliding closed
The two panels facing each other are held open by the oval sentiment  ... all adding to the effect of a beautiful Triple Twisted Easel
The flowers on my card are a mixture of roses and lilies from Wild Orchid Crafts  and the satin ribbon is some that was on a pair of new pyjamas ... waste not want not !!
Return from Triple Twisted Easel to Homepage