Gatefold Easel Card ...
Two for the price of one!


Gatefold Easel card ...complicated? No very easy to do.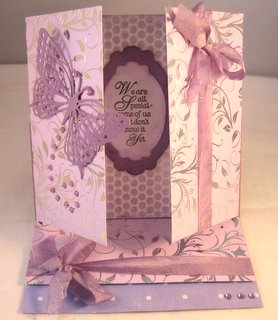 Have you tried making a Gatefold card yet?
And did you like the effect it gave you?
Have you had a go at the Easel Card?

I am sure you found both of them easy to create.
Well this one goes a step further and combines the two very pretty but very different designs in one easy to make card.
For my card base I have used some really luxurious silver foiled card from Hunkydory  and it has been wrapped with seam binding and tied in a bow
---
---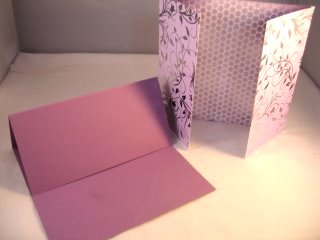 In the picture the Easel card is on the left and the Gatefold on the right.
To make each individual style is fully explained, step by step, on the relevant pages and you just  need to click the links to go to that page for all the instructions
The Easel card is also in a short video.

Whatever size you make your easel card you will need to know the size of the surface area.
Then when you make your gatefold it will need to be twice the width to be able to fold.
For example mine is a 15cms square when it is closed up.
The gatefold will need to be the same height 15cms but it needs to be twice as wide as the card at 30cms.
Then from each of the outside edges it needs to be scored and folded inwards at 7.5cms.
The picture shows you how it will look once you have done the folding.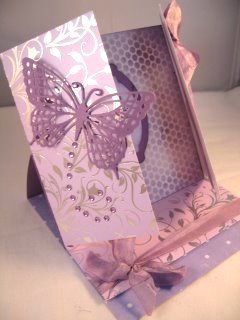 It will be added to the easel part as described in the tutorial, remembering to add glue only to the bottom part of the easel.
Then you can raid our "Stash" box and decorate it up as you wish to suit the recipient, the occasion and you.
The beautiful butterfly is designed by Marianne Design Creatables.

There are several choices for the butterfly that is just right for your projects.
Add them to your Gatefold Easel card or any other design you make.
Have fun with this and any of the other card designs you wish to try.
 You will find full instructions on lots of styles and lots of them are also available as Video Tutorials   so just enough time to grab a cuppa as you watch.

Cardmaking Techniques

Ideas

Easy Projects

More Projects

Novelty Cards

Kinetic Cards

Papercrafts

Useful Resources
Return from Gatefold Easel Card to Homepage