Using Acetate in your Creations

Acetate is an interesting material to work with, give it a try for some different effects.

You can buy these sheets singly or in packs and they come in different weights.
They can be used for lots of projects so have some fun with them and see what you can create.
Here are some of the things you can do with it.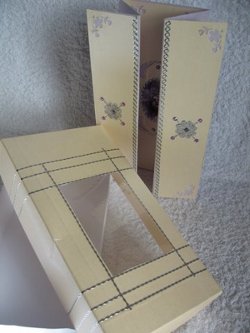 The thicker sheets can be used to make a complete box with, or make a box from matching card, and use it in the lid.
Add a piece into the top so that you can see your creation through it.
Add some peel offs for that extra touch and send it with love.
Or embellish it with flowers as I did with the box for the Memory book
You can buy good quality Acetate sheets from Crafters Companion
---
For this project I used it to add a window to some paper crafted frames and then added my favorite photos.
Always nice to give as a personalised gift at Christmas ... or add your childrens photos as a little gift for Grand parents at any time of the year.
Click this link to find out how to make the pink Paper flower


Use the printable material to make toppers for your cards.
Make sure you print onto the rough side though and then leave it for a couple of minutes to dry before you start to work with it.
I printed four of these snow scenes onto one piece and cut them up
I layered them onto a glitter card with brads and mounted it at an angle onto my card.


Or leave it as a complete sheet and use it to wrap around the card for an elegant touch.
I have used this printable sheet and wrapped it around a linen effect white card stock.
It has then been decorated with border peel offs around the edges.
The Hearts have been heat embossed and tiny ribbon bows added to the top of each one.
The white organza ribbon along the spine is the finishing touch, with a peel off sentiment along the bottom of the card that says "Just for You"

Another idea is to use it in an aperture for your card front.
I cut out the opening I wanted and fixed the acetate behind it with double sided tape, then decorated the front with the ever useful peel offs.
And of cousre I just had to add some flowers...wouldn't be the same without them!
Here is the tutorial on how to make this card for yourself.
And you will need the template for the opening in the front of it.
Try cutting out a small section of your image to make a Shaker card for an unusual finish.

Here I just removed the centre heart that the bear is holding and I filled it with red heart gemstones, for someone really special!
Aaawwww!! 
And here is a really novel way to use it that is very easy to do and the instructions to make it are now in Video Tutorials
Magic!

Return from Acetate to Homepage