Promarkers ...
for good results

For easy to use pens then take a look at Promarkers
These pens took the cardmaking world by storm when they were launched onto the market, and they have been around for sometime now.
They are another brand of Alcohol Marker pens that are the grown up version of the felt tip pen.
These are not the ones to let the children loose with ... oh! no!
They were originally introduced for the professional artist but they are so easy to use that cardmakers everywhere have fallen head over heels in love with them.
And they are a good choice price wise as you build up your confidence
They are very versatile and they are dual tipped for extra blending. With a bullet tip at one end and a finer nib at the othe.
They will give you the excellent results that you want, even if you can't, or don't like colouring in for your self.
They come in a vast range of colours, and there is also an Aqua Marker pen. but the best way to buy them is in family sets, and there are many to choose from.
They range from Seasonal colours, darks, pastels, brights, skin tones and skin accents... as well as sets for foliage or florals.
And because they are grouped together as families you can be sure that they will all blend well together 
But don't think that the skin colours are just for coloring skin because some fantastic results can be achieved just from this family group of colours.

All of them blend together so easily, and the more you apply the colour, the deeper it goes, so one colour can be used to add shade and tone to your images. 
Both of these delightful wee boys have been coloured using these markers and the results look as if they have been printed out....and I am not a trained artist.

But if you play around with the pens, experiment to see what you like and enjoy them you will see your work improving daily every time you use them.
But keep them away from the kids...these are just for you!
The Aqua Markers blend, as you would expect, with water, and can give you some really pretty water colour looks for any of your projects.
They are not difficult to work with and if you are new to Promarkers then they are a less expensive way to learn as you better your techniques.
Once you have built up your confidence then you can move on to the more expensive brands if you wished but it really would take a lot to get me away from these affordable options.
There are may sets to choose from but a good starting point would be some skin tones, a set of basic colours, and maybe some metallic ones to add that little extra to your colouring.
Obviously buying the larger sets will be more cost effective but there are lots of good deals on Amazon for you to choose from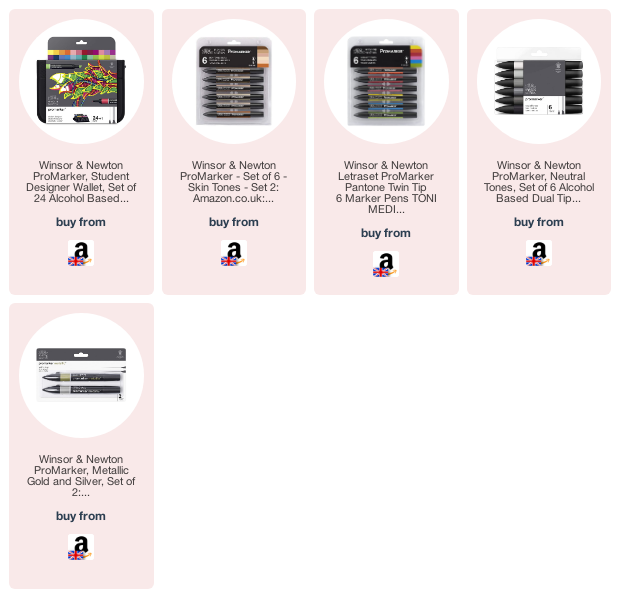 Colouring In

Colour Wheel 

Copics

Spectrum Noir

More Projects 

Novelty Cards

Kinetic Cards

Cardmaking Ideas

Occasions
Return from Promarkers to Homepage