Distress Inks
For Some Fabulous Effects use these distress inks in a variety of ways ... from ageing to colouring in
You will find videos on how to use these inks to colour in skin, hair and clothes in the Video Tutorials
These are some of my personal choice of inks and there are many lovely colours in the  range and new ones are being added all the time in the Tim Holtz collection.
They can be used in a number of ways and because they are specially formulated to be reactive with water some fabulous results can be created when you play
But please note that these are Distress Inks and NOT
Distress Oxide Inks which work in a slightly different way.
Adding more water can dilute the inks to more pastel shades, which is good if you are using them to colour skin tones and the videos will show you how to use Distress Inks to get beautiful results
You can also get refills for your ink pads as well as other Distress Ink Products that will all work together
And good news ... you can now get these Distress Inks in smaller pads which has to be more economical and a small tin to store them in.
 Try making your own Distressed Papers

Mat and Layer them to co-ordinating card and then adding them to your  designs for your own personal look

Use them with your stamps to create an image that matches your colour scheme.
And they are an excellent choice if you intend to colour the image with Promarkers, Copics or Spectrum Noir pens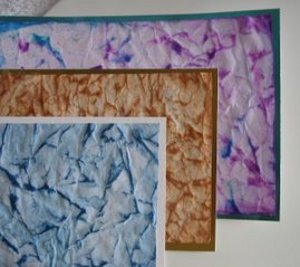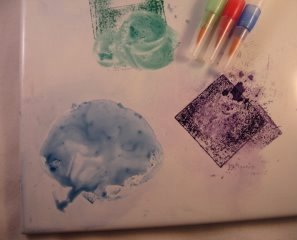 Dab the colours from the ink pad directly onto a white ceramic tile and make your very own palette.
Add a little water and mix it with the inks on the tile to produce a paler colour. Don't be tempted to take your wet brush direct to the ink pad though or you will dilute the whole pad.
Blend them as you need and when you have finished just leave the colours to dry on the white tile.
The next time you need them they can be re-activated again for another use on another day, making them very cost effective.

Why not make some  Blending Tools,  for some colourful effects.
Blend the ink in from the edges of the card, and use one or two colours for another effect
Here is another idea for your Inks and especially good for any male cards that you may be asked to make
This  Faux Wood Effect  is very easy to do and looks fabulous with any boat themed cards
Another way to make the most of these is when you want to create a background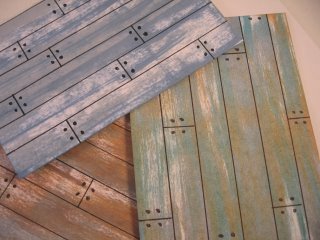 You can do this very easily if you combine them with Masks
Click the link for some ideas on how to use them

There are new colours being added to the Tim Holtz range regularly.
They are a truly versatile medium for the Cardmaker....new or seasoned so don't be afraid of them.
And being water based they are easy to clean up
So my best advice is to play with the distressing inks and see what you can create for yourself
For a really pretty and unusual effect please take a look at 
Distress Ink Background
I will cover Distress Oxides on another page 

Easy Projects

More Projects

Kinetic Cards

Papercrafts

Return from Distressing Inks to Homepage